Volvo Trucks North America is part of Volvo Group, one of the world's leading manufacturers of trucks, buses, construction equipment and marine and industrial engines. Volvo Trucks' work is based on the core values of quality, safety and environmental care.
Mary Dee and Amanda Clarida, members of the competence development team, are charged with bringing that same level of quality to Volvo's branding and content. Mary is in charge of organizing their content, while Amanda oversees the actual content generation. At any given time, there are 25 to 30 projects ongoing, as well as an entire backlog of educational materials to keep organized and accessible.
Mary and Amanda share below how exactly they use Kintone to meet the department's needs for improved workflow management and information archiving.
Volvo Trucks North America's Challenges:
Establishing a searchable content archive
Creating a robust database with automatic permissioning
Improving scheduling and communications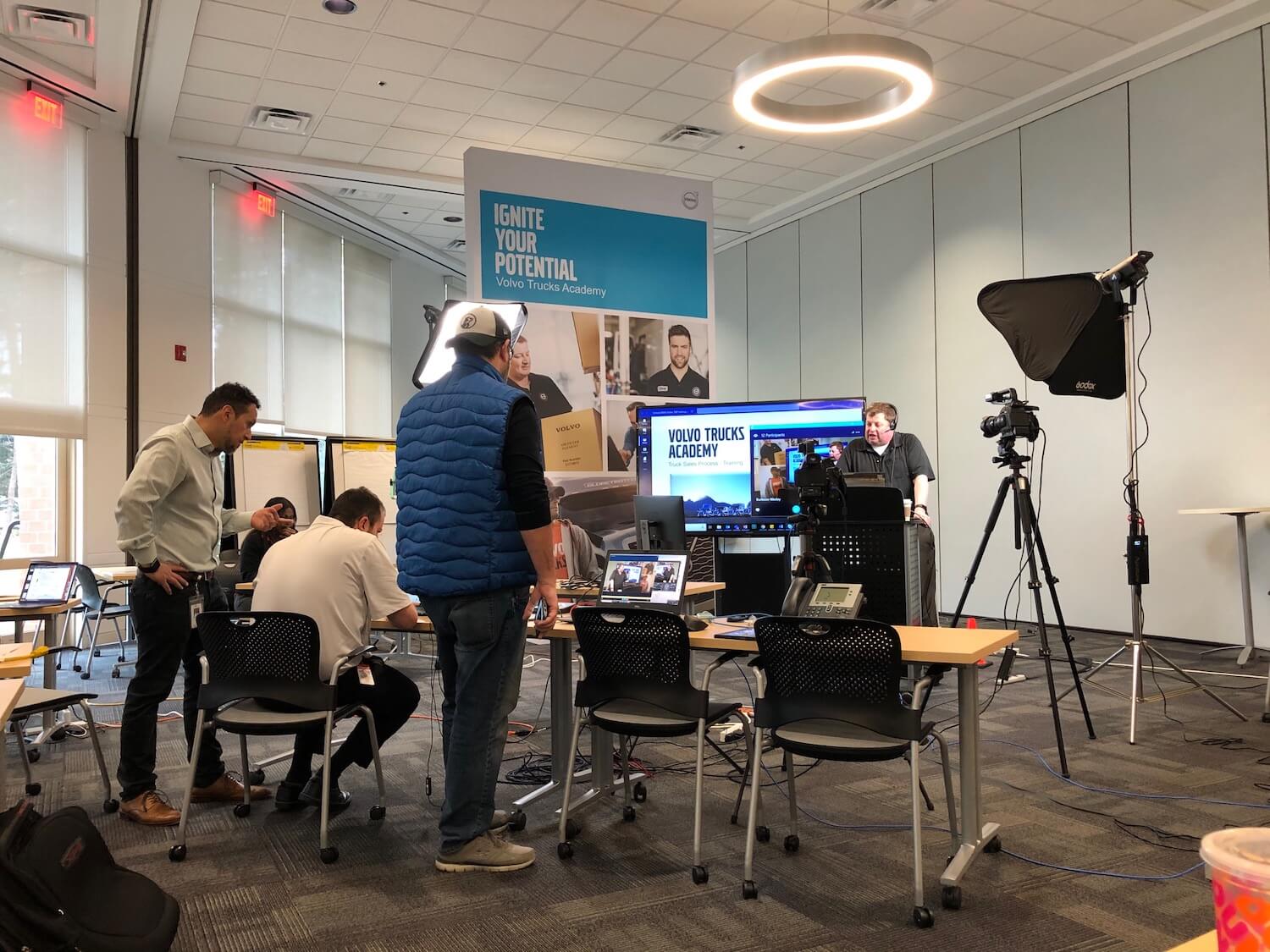 Content Management: Organizing the Details
Mary: I am the brand and learning content manager for Volvo Trucks Academy, which produces training content for Volvo truck dealer personnel in North America. I came across Kintone because I was searching for a solution to the problem of keeping track of our courses and content. When I started, our process consisted of putting content on an LMS (Learning Management System) and not managing its upkeep.
My job had just been created when I came on board. When I first started in this role, we were using a tool called DigiSuite, a digital asset management tool, but it wasn't the perfect fit for us. My problem was managing information about our content —people were posting their information in several different places (Dropbox, emails, Google Drive, etc.). We also tried Microsoft Teams, but it lacked some of the functionality we had been looking for, particularly with regards to automatic notifications.
When we were looking for a new solution, our primary goal was to store our content information in one place where we could directly access it in a searchable archive. Eventually, I discovered Kintone and chose it because it was so intuitive and the price was right. Kintone enables us to build and customize the software we need.
Amanda: My team—five people, including myself, as well as a number of external consultants—are responsible for developing the actual educational material. This includes e-learning courses, in-person instructional courses, and live virtual courses, as well as other types of content.
My problem was that each piece of content is part of a larger project, and there are so many moving parts, all moving around across different platforms. When we're working on 25 to 30 projects at any given time, having an organized way to keep track of all of those details is crucial.
Shifting Away From Spreadsheets and Siloed Info
Mary: Kintone was an awesome find. I used to send out a carefully formatted spreadsheet to get responses about all of our various assets. Everyone would send me their responses in an email, and I had to dig through email chains and worry about multiple variations of the same file. It was very time-consuming, and it was easy to lose track of assets and conversations. That kind of thing doesn't happen anymore. We've introduced more rigor into our work while also making it much easier to stay aligned on roles and responsibilities.
One of the other department heads manages instructor-led training. He was using a spreadsheet which received input from stakeholders across the company to manage PTO and administrative needs. Using Kintone, he was able to build a schedule and a course catalog. It's a place where all the trainers can see everything they need on one calendar without having to pass a file around.
Empowering Our Team to Build What We Need
Amanda: With Kintone, we were able to figure out what we needed internally, and played the role of builder from inception.
It's awesome to have a tool that's so malleable that we can make it as we go and keep tweaking til we get it right. We're able to build out a solid process that works for us and can be adjusted as needed on the fly.
Kintone allowed us to build a tool that our teams can use to take a process all the way from start to finish. When Mary told me, "You can build apps that can do anything you want," I was skeptical. But it's exactly how she described it. Before, we used pre-built tools that we'd have to try to force to fit our needs. But with Kintone, we can figure out exactly what we want for ourselves. If we know what we want to build but don't have the bandwidth, we can even partner with other vendors who know Kintone and have them build it for us, either in part or completely.
The app that I worked on for my development team is just a small part of our overall system. What we've created is a tool that everyone uses together in order to take a project from its beginning all the way to the end. To build it, we mapped out and accounted for every step of the process ourselves so that we don't miss a beat. Now, we're focused on getting our team to understand that the app belongs to all of us and empowering them to build upon what we already have to continually improve our workflow.
Kintone lets us see how to prioritize projects and generally run a much tighter ship…
Results With Kintone: Accessibility, Visibility, and Accountability
Mary: Now that we have Kintone, our databases have become so much more robust. We can create a record for every piece of content in our library, and all of the discussions about that content can be contained in that record. I no longer have to dig through four different software tools to find what I need. Another benefit of Kintone is that we can be very selective about who has access to any given data point or project record and restrict what they can do to modify it.
Amanda: As soon as I started playing around with Kintone and building out our apps, I was amazed at just how easy it was. Anything can be kind of daunting the first time you try it, but as soon as I got in there, I saw how we can make small but impactful changes to our apps. Things that seem very minor can make a big difference for how these apps perform.
Kintone has helped us assign resources to projects and track the time it takes to complete them. While this wasn't our primary goal of moving to Kintone, it was definitely needed. Before, we had a lack of visibility on the current status of each project and who needed to take the next action to move things forward. Now we have automated reminders, project status visibility, and clear assignments and accountability.
Kintone lets us see how to prioritize projects and generally run a much tighter ship, while taking a lot of the tedious, redundant workload off of our shoulders. We're just getting started, and we're excited to see what else we can do with the platform.