Setting up your database app
Choose the way you want to organize your data with various field types
Build your app field by field
Choose from over 25 types of data fields to build the database app you want, including rich text, date, multichoice, and more. Organize them with Kintone's no-code drag-and-drop tool to create the app you'll use to store your data.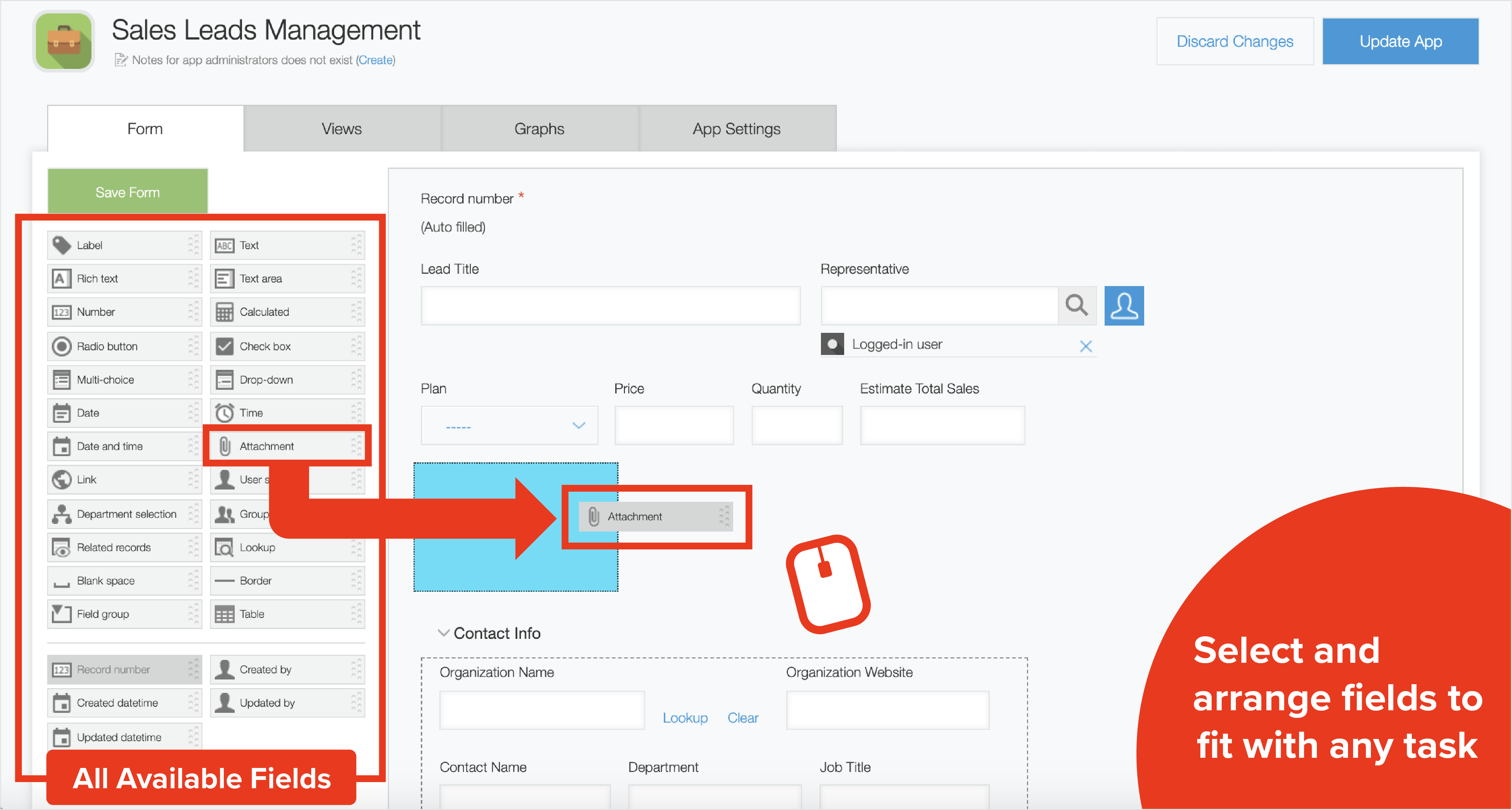 Set conditions for each field
Modify your data fields with custom settings
Use the "Settings" option on each field type to set various conditionals on how data can be entered into them. Make a data field required, set formulas, or choose certain fields to auto-populate based on other related databases.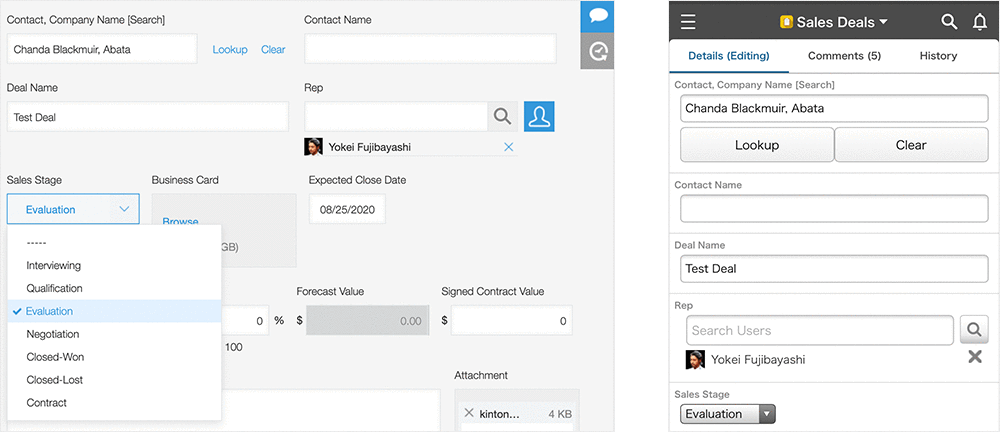 Create unique views for your data
Use filtered views to see your data from every angle
Set filters on your entire database to quickly view your data from different angles such as due date, assigned to, past tasks vs. upcoming, status and more. If you want to easily see your filter in the future, you can save it as a custom "View" you can see with the click of a button.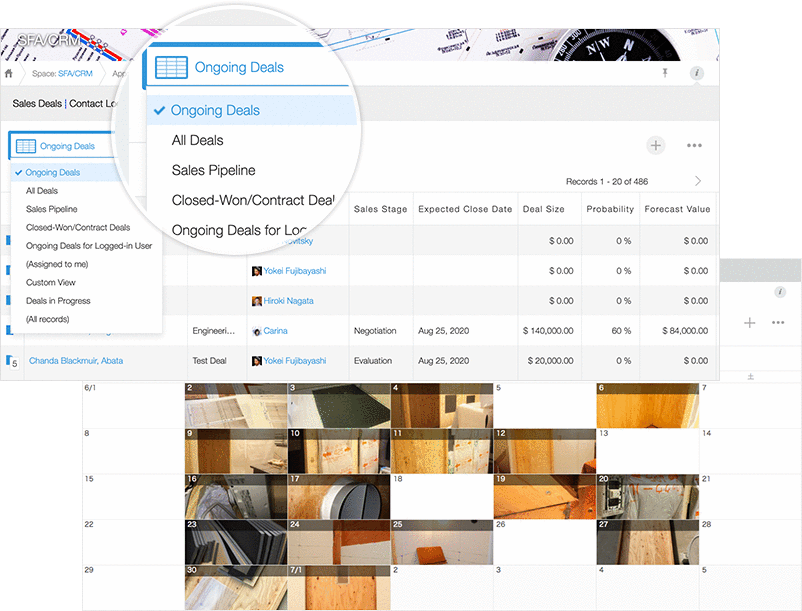 Display your data visually
Generate graphs and charts for analysis and reporting
Visualize the data stored in your apps in colorful charts and graphs. Data displayed in graphs is shown in real time, eliminating the need to recompile data every time you need a new report.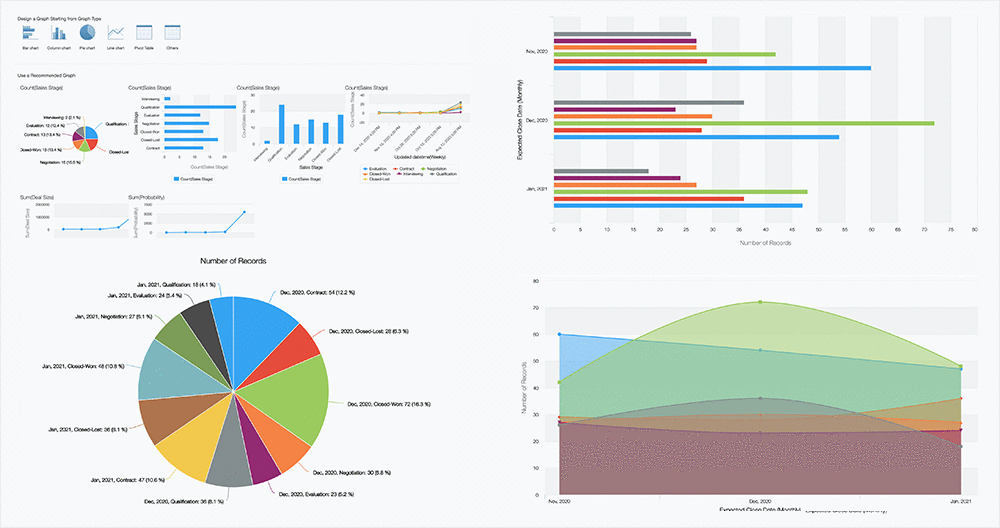 Link data between related apps
Link apps together for improved tracking
Link different database apps together using fields such as "Related Records" or "Lookup." For example, create a link between your Expense Reporting app and Budget Categories database to easily track related expenses for a particular event or department. Pulling information from various databases into a master app reduces data duplication work and cuts back on the time spent searching for related data.

Customize your app's appearance
Pick a color scheme you like
Choose from six design themes to make your apps more distinct and customized for your team. Changing app icons and banners can also make it easier to quickly tell apps apart at a glance.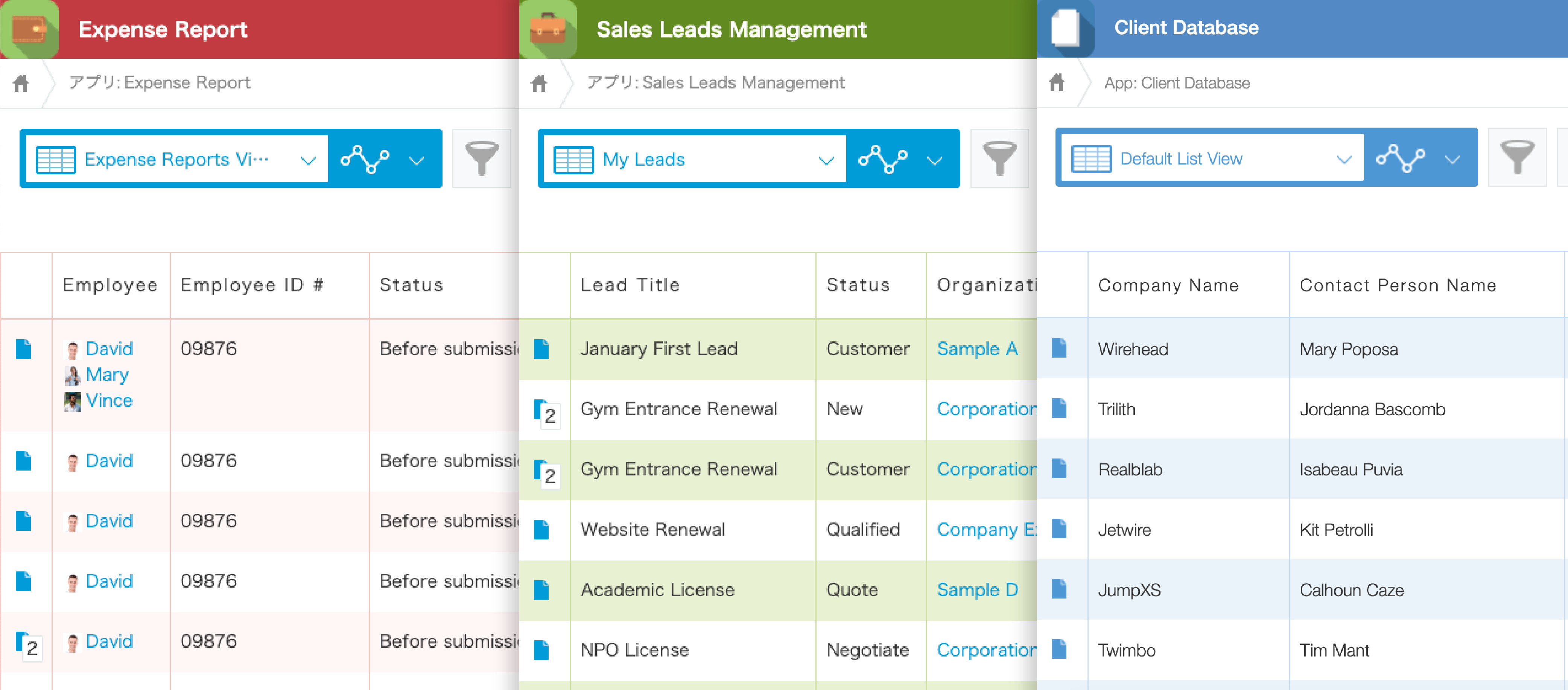 Get notifications when things happen
Always know when you're needed
Never again use email for internal messaging. When a task's status changes or a coworker tags you on a record, you'll receive a notification at the top of your Kintone page to alert you. Notifications are organized by default as "Read" and "Unread," although you can create additional filters to see or save the notifications that matter most.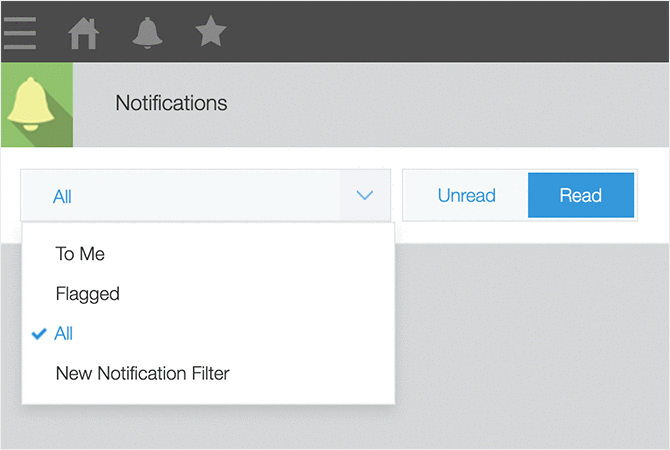 Set up workflows around your data
Track your workflows at every stage
Build step-by-step workflows in your app to easily track tasks and projects around your data. Workflows are built just like apps–using Kintone's no-code drag-and-drop tool.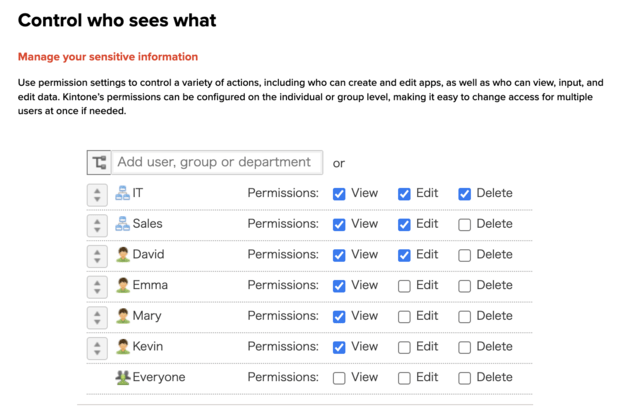 Set up automated reminders
Customize them to say what you want
Set up custom automated reminders for yourself and others; these reminders can alert you of upcoming deadlines, to check a project's status, or any other custom message you need. Reminders are set to your Kintone portal, but they can also go out through email or push notifications on the Kintone mobile app.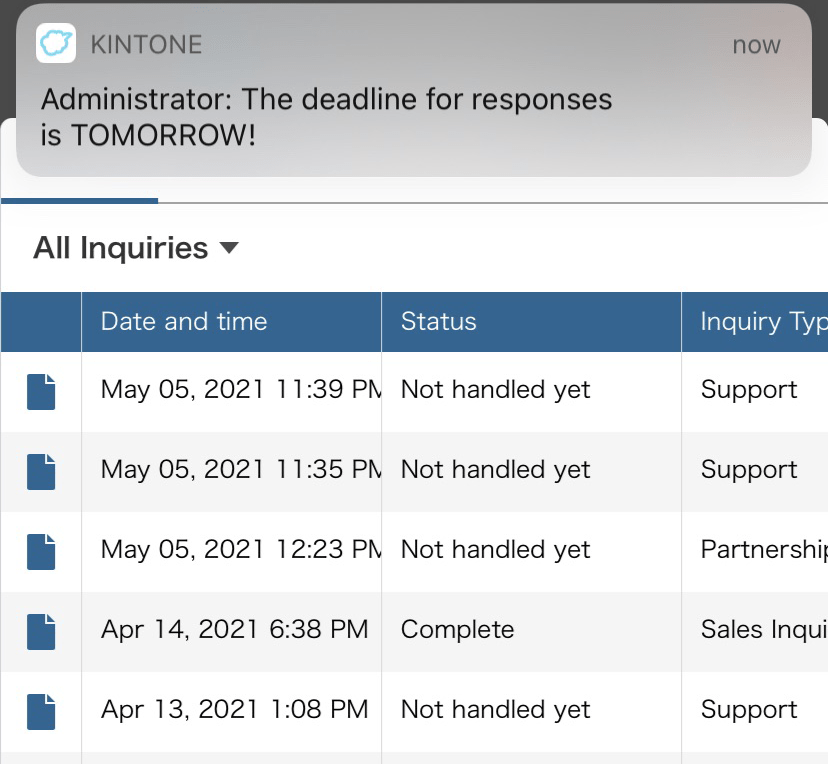 Control who sees what
Manage your sensitive information
Use permission settings to control a variety of actions, including who can create and edit apps, as well as who can view, input, and edit data. Kintone's permissions can be configured on the individual or group level, making it easy to change access for multiple users at once if needed.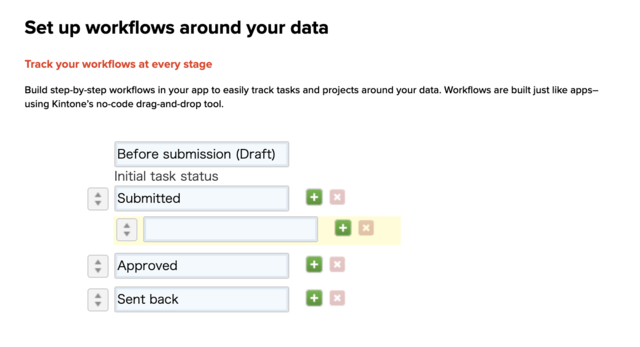 Track changes to data records
See what's been changed & change it back
Track changes users make with Kintone's change history feature. See who changed what, when, and how at a glance—and then revert back to a previous version of your data if necessary.