Lindsay Bennelong Developments is a boutique property developer with a focus primarily on high-end residential projects across Sydney. Their strong commitment to quality and innovation allowed them to grow rapidly, delivering outstanding success in its developments.
An independent business owner Tricia Hayward got involved in Lindsay Bennelong's sales arm to find out their operation being heavily tied to an Excel Spreadsheet. Although it was crippling their growth, the team believed that it was the best way to manage data and didn't want to change the way of working they were used to.
Here is Tricia's story of how she transformed the team's mindset with Kintone.

Stuck in an Excel Spreadsheet
The sales arm at Lindsay Bennelong Developments used to manage everything on an Excel spreadsheet. They had endless long columns that made them scroll through everything to find the information.
First, Tricia designed them in a Microsoft Access database to make it easier to manage data. It worked well until the team grew. They began having issues as multiple people started using the same database across the OneDrive. "It wasn't updating information seamlessly. That's why I began to look for a cloud-based platform to put the data onto about a year ago so that everyone can refer to the same version of data even if they are away from the office," she says.
Why Kintone?
Tricia explains she chose Kintone simply because it was easy to use and customize/design solutions as she wanted without any IT professional's support. "I signed up for a trial and within 10 minutes, I was able to develop a platform with a couple of different fields and filters. As a person with a database design background, being able to get a cloud-based system up and running within such a short time was just incredible," she says.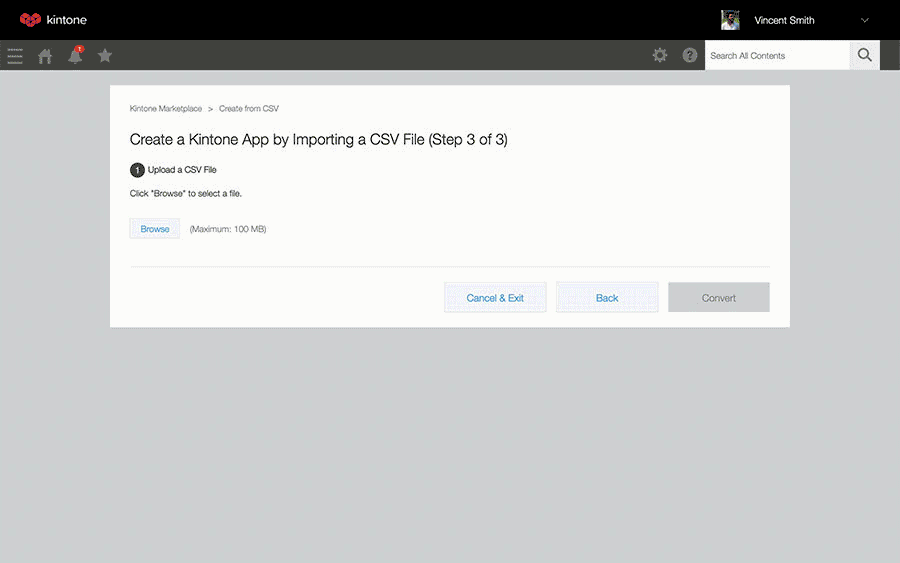 Besides, Tricia only had a very short window of time to take the spreadsheet offline when she was migrating from an Excel spreadsheet to Kintone as the team was halfway through the sales process on a particular project. They needed to be back online and running immediately, so simplicity was crucial for her in terms of choosing software.
"Within the short timeframe, we successfully migrated the stock list and marketing database from Excel to Kintone, marrying the two," says Tricia. "Now, when the salespeople sell an apartment to a client, they press a single button and they can have access to sales advice much better than having to sit there and type in a PDF format."
Open to Third-party Services
Lindsay Bennelong had a lot of success with apps and plugins available for Kintone. The plugins that they use include Jotform, an application to create custom online forms, and Zapier, a tool to connect multiple apps to automate workflows, which allowed them to eliminate manual data entry. With Kintone's open API system, Tricia was able to solve many complicated workflow issues as Kintone can work with third-party services very easily.
Lindsay Bennelong had challenges collecting information such as potential customer's enquiries from the two biggest property listing websites, realestate.com.au and Domain, because they work on different platforms. After a few consultations with Kintone team, both parties came up with a design using a third-party connector, Zapier, a tool to connect multiple apps to automate workflows. It facilitates data movement between the platforms, passing information into Kintone. The beauty about this is when someone presses the button on whichever websites they're interested in, the records appear in Kintone within about 10 seconds.
"It also takes only about few seconds for someone making an enquiry on those listing websites to be recorded into Kintone," adds Tricia. Eliminating all the manual process of salespeople such as copy and paste of client details from one platform to another made them more time to focus on the actual work that they are supposed to do.
For the booking form of various appointments including pre-settlement inspections and valuation, Lindsay Bennelong uses Kinton's plugin, Jotform, an application to create custom online forms. Previously, it involved a number of phone calls and manual diary. Tricia recalls it used to take days and days to get appointments for all of the apartments that were to be sold. "However, with Kintone's plugin, we managed to get appointments for 95% of the apartments sold within 4 hours without a single phone call, which is just unheard of," she says.
Tricia also points out that the process of incorporating plugins was very easy. "For example, using plugin for booking management and with help from the Kintone team, it was about 14 days from when I had that idea to going live to actually take bookings." She adds that the communication between Kintone is also amazing. "They have a broad network of vendors that we can work with and I think that's the key to use different plugins successfully."
Making it happen over the phone
Because Kintone is surprisingly simple to use, Tricia is able to respond to salespeople's request to make any changes on the platform even over the phone. "Now the sales team think I'm wonderful," she smiles. The sales team now only has to call her and tell her about their ideas. Then she quickly makes some changes on Kintone, updates the app and they get what they want. With only a few simple steps she can modify/customise existing apps, which is excellent experience for her.
Kintone comes into its own especially when dealing with people who don't have extensive knowledge on software engineering. "They've just got an idea and want it to work a certain way," she says. "They don't want to know how or why. They just want it to work and Kintone caters for that with its simplicity and flexibility."
Now in her organization, the sales team is using the Kintone platform for internal communication as well and that brought the whole team in one communication platform to do all the collaborations. They use the comment function within the apps to communicate with each other, which improves the efficiency and is just very convenient.
Kintone has very good levels of permissions as well and admin can easily set that. For example, "The sales team doesn't have authority to delete a record so they used to email me, requesting to do so," explains Tricia. "But now I've got them working with '@Trish Please delete this record'. I get a notification and it disappears off the system without any trouble."
Changing the team's mindset
As with any business, Tricia faced some extent of hesitancy from workers when introducing new technology. "To tell you the truth, I had to delete the spreadsheet that the salespeople were using to get them to use Kintone because they insisted on using an Excel spreadsheet. They didn't want to change," she recalls.
But she also said that now if she wants to take Kintone away and try to give them something else, it is a whole different story. "You've changed their mindset by taking away a tool that they were using incorrectly and giving them a tool that they could use correctly," says Tricia.
Now, the sale team is working off apps on their phones so they don't need to be sitting at a computer. This enables salespeople to simply focus on their job, which is to sell but not to type information into a system. "You want to leave people where they're good at doing things," she says. "So if we can leave a salesperson busy selling, the developer benefits because that person is doing the job that they're good at. They have to have a tool that makes them efficient, and an Excel spreadsheet is just not it."
With all the changes successfully brought into Lindsay Bennelong' sales operation, Kintone is now an essential tool for them and Tricia says they cannot work without it anymore. "If you were to talk to our sales team now about how they do business with Kintone compared to how they did it before, it's like chalk and cheese. Kintone has been an absolute game-changer," says she.
The sky is no limit
The fact that there are so many plugins and apps available also means the sky is no limit. There's always some ways and ideas out there that makes it possible to achieve the desired outcome and Kintone will work with it.
Tricia says Kintone is open to third-party tools, allowing users to expand the potential of what can be achieved. "With Kintone, you can make any idea happen."