MOST/DFW is a pediatric speech, occupational, and physical therapy clinic based in McKinney, TX with a mission to provide fun and functional therapy to improve the quality of life of their patients. The clinic includes around 50 employees, including an interdisciplinary team of therapists and administrative staff.
Katie Fernau is the COO of MOST/DFW, running all non-clinical operations for the organization alongside Hilary Harris, the Administrative Director, and Paige Morris, the Facility Director.
The team originally relied on paper to run the clinic but began to digitize their data and processes as their organization grew. Katie shares her team's story below.
MOST/DFW's Challenges:
Labor-intensive, paper and email-based processes
Lack of detailed permissions settings to limit access to sensitive data
Data stored across various tools
Shifting away from paper
We have about 50 employees at MOST/DFW, but when I started, we were just a team of nine. As we've continued to grow, the most important thing we've focused on is keeping things organized and efficient. When I first joined, many of our processes were paper-based, and I made it my goal to digitize as much as we could.
We started with our patient intake process, switching over to electronic forms. We'd originally set up this new digital process on Airtable, but there was one major problem: Airtable lacked the sophisticated security and permissions settings to help us maintain HIPAA compliance. We knew we needed to find another tool that could make information easily accessible while limiting sensitive data to a select few, and so we began the hunt.
The search for a platform that could do more
When we first looked into switching tools, we were tracking client management on Airtable, intake forms in another system, and then using Google Drive to fill in the gaps. This just wasn't getting the job done because the clinic was growing so fast.
One of the challenges we ran into was finding one system that could organize everything. Paige and Hilary did quite a bit of research but couldn't quite seem to find what we were looking for. We weren't sure we would find a tool that had everything we needed.
The goal was to centralize as much as we could into one database and set up clear workflows to make it easier to track stages within a process. For example, the intake process alone has 15 different steps to get one child onboarded—when this was tracked on paper, it was difficult to quickly see where each patient was in the process and if any of them were stuck in a bottleneck.
After a lot of searching, we found Kintone.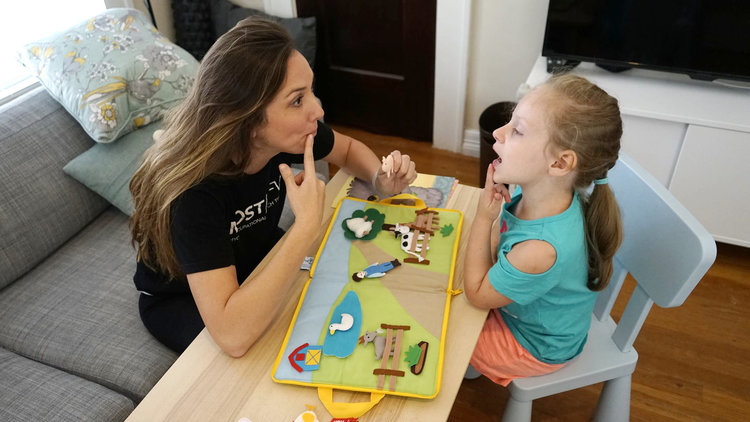 Better client management, better workdays
Our team primarily uses Kintone for client management. Our team of therapists uses a separate electronic medical record (EMR) system called Fusion to track our patients' charts, but that system can't handle intake forms. We switched to Kintone to track the intake process, and we immediately saw the benefits of this change. We were onboarding people so much faster, and no one was slipping through the cracks. It definitely improved the business.
Kintone allows us to set highly detailed permissions so that only specific staff members have access to certain data records or even individual data points within a given record. For example, a team member might be able to see into an employee database and access basic information there with the exception of the data fields storing social security numbers. This gives us more control, and therefore more peace of mind, over how sensitive data is shared internally.
It's also much easier to keep track of important deadlines. Our patients have to get re-evaluated every year, and we're able to set up custom reminders for these important upcoming dates. Rather than having to manually look into the database to see which children are due for a re-evaluation, my staff is notified 30 days before. We're able to be much more proactive with these automated notifications. Staying on top of things takes less effort.
Organizing client information in one place
Within one record in our database, I'm able to see all the information I need about a patient. We use the platform's related records and lookup fields to connect multiple databases so that everything I need is on one screen, which is an absolute godsend. Some of our patients need additional authorization in order to get services, and I can see those related records right there. We also use Kintone's multi-tab plug-in to break down the information into sections so it's easier to find. Our team loves it.
Additionally, we've set up custom views and filters to get a high level view of where things stand at a glance. I can see all of our new requests that are waiting to be contacted for services. I can see how many kids are in the intake process and what stage they're in.
If our team needs to communicate about a specific patient or task, we're able to do so right in the comment panel of the database records. We use this feature a ton instead of writing emails back and forth to each other with attachments or links.
Results with Kintone: efficient processes, clear workflows, and organized info
Back in the day, with Airtable our old Request for Services form didn't have an option to drop in the insurance card image. Paige needed to follow up with an email to our billing team for every request. We also used to go back and forth via email for scheduling questions. Now, we can put all our notes and attachments right next to the data or task we're discussing. Everything is tracked in one place. There are no additional emails to be sent. And most importantly, we're able to move our patients through the intake process faster.
Now that everything is set up so we just click a button in one system, from start to finish—all the way from the beginning of the intake process to actually getting patients into their first therapy sessions—we're probably saving at least 20 minutes per child. It might not sound like much, but that means for 220 patients, that's over 70 hours. That's just one example of how much time we're saving.
Our team also uses Kintone to track hiring and employee information. Managing employee files has been so convenient. I used to have to store a lot of these important employee documents, like offer letters, licenses, etc. in Google Drive, but now they're organized into Kintone databases and very easy to find. We also use Kintone to track employee reports, PTO requests, and more. I will say, the challenge we faced at the beginning is that change is hard—people don't always embrace change. And switching away from paper and even our original digital process were big changes. But our processes move so much more smoothly now, and we're able to clearly see how much time and effort we're saving.
What's next
Our team has at least three or four additional forms we want to build out on Kintone and Form Bridge, the form extension we use. Eventually, the plan is to have our department heads working in Kintone as well. The more we're able to streamline, the more time we'll have to focus on building relationships with and providing support for our patients and their families.