Whether you're a small business or a mid-size enterprise, a $100 million company or a multinational, there's always a better way to do things. You have to think strategically when you're building a new solution. Too many companies choose SaaS solutions that only answer "what"—that is, the immediate problem. I started AscendWare.Net to create cloud-based software solutions that start with "why" and then answer the "what" and "how."
Time and again, I've seen companies buy software suites that don't specifically fit their needs or siloed apps that solve a single problem but cannot solve additional problems. They don't adapt to the future needs of the organization. It always shocks me when companies are willing to change their processes and their strategies to their software, rather than the other way around. This is what happens when you only deal with the "what."
Strategy Before Solutions
At AscendWare.Net, we don't think of ourselves as just consultants. We are strategists, architects, developers and systems integrators. Our solutions are customized to the way our customers need to do business. We can also help them with onboarding, implementation, and integration with systems they're currently using. Depending on the level of partnership they require, we provide solutions that customers can self-manage, as well as fully managed solutions where we provide ongoing updates, maintenance, and support. We're very flexible that way.
Dealing with the "how" and "why" means asking a lot of questions: Why are you actually doing this? Is it because you've always done it this way? Are you following these procedures because you have specific people and existing legacy systems? Could you do this with less administration and more automation?
Most vendors are not equipped to answer these questions. More importantly, many of them fail to even ask the two most crucial questions that I've encountered over my 30 years in software development and consulting: How do we efficiently build the "right" solution, and how do we integrate it with what you already have?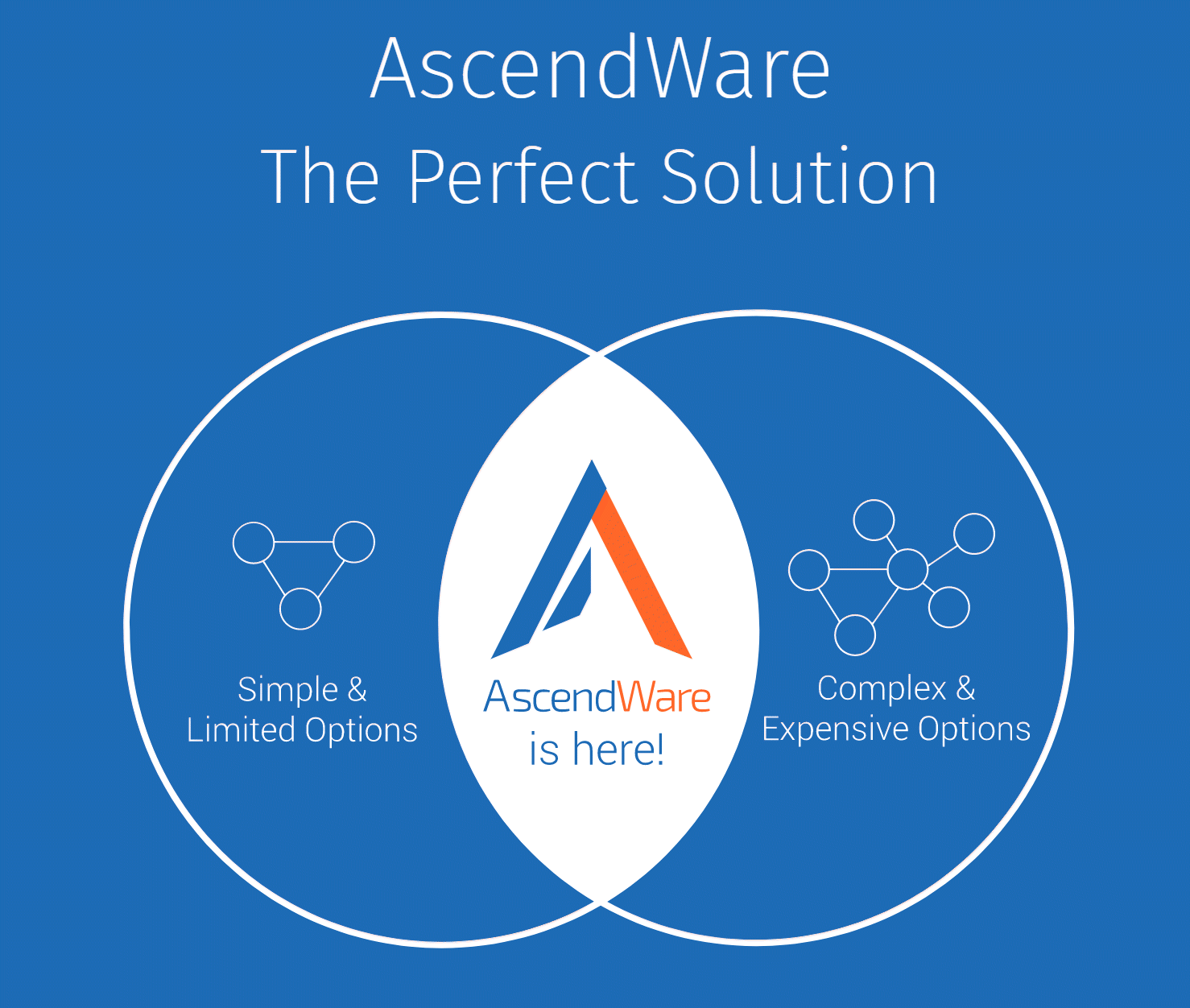 IT Departments Are Overburdened
Another trend I've observed is that internal IT departments are overburdened and lack the resources to develop in-house solutions in a timely manner. They're too busy dealing with network performance, infrastructure maintenance, storage, security, accessibility, and end-user support to build a custom solution internally. Furthermore, even the most advanced systems, specialists lack the skill set to develop business applications in the traditional manner. A popular solution is to purchase an interim SaaS application that's within budget and which meets some of a company's needs. But all they're doing is putting a band-aid on a situation that is just going to get worse.
The best solutions are custom fitted, but most organizations don't have the ability to properly implement them—let alone build them—especially in the mid-market and upper-small enterprise sectors. I co-founded AscendWare.Net with Abdul Karmach, our CTO, to service this market by providing strategy and customized software to simplify and automate their company at a fraction of the time, cost, and resources.
The best SaaS solutions are custom, but most organizations can't properly implement them—let alone build them.
I have decades of experience dealing with business owners and executives. I can relate to them because I understand how to apply the latest technology to address business problems and objectives. I speak their language, so I can take what we uncover during the discovery process, provide a high-level design, give it to Abdul and his technical team, and let them translate it into software. Our process always starts with strategy sessions, which generally happen in one or two short meetings. Moderately complex applications are completed in weeks, not months.
In order to produce these incredibly fast turnaround times, we needed the right platform partner, and we found that in Kintone.
Empowering Citizen Developers and the Benefits of a Low-Code Platform
Kintone is a low-code/no-code database-centric development platform for the creation of web-based and mobile business applications. The platform is designed to empower "citizen developers"—people who have little or no coding experience, and who are not IT experts—to create business apps that automate workflows and enable collaboration.
When we first investigated Kintone, we felt that the company offered 80% of what we needed to fulfill our mission. However, after meeting with CEO Dave Landa and his team, we quickly realized the company offered 100% of what we were looking for. We rapidly built our first SaaS applications and were able to prototype our sales, service, and operations modules right away.
Find a way to free up overburdened IT departments to unlock their true potential.
One of the great aspects of Kintone is that the platform automatically rolls out web-based, collaborative, and mobile solutions with no additional work required. Build the app once and it's instantly available on desktops, laptops, smartphones, and tablets (iOS and Android). No extra steps are required to ensure responsive, mobile designs. Kintone supports multiple environments and screen sizes.
Development on Kintone is better and faster than native languages and competing platforms. The software allows your apps to be as simple or complex as needed. This is where Kintone shines and AscendWare.Net fits in.
For example, a sales manager could easily build a set of applications to track and manage prospects, customers, inventory, and proposals using a drag and drop interface. An HR manager can assemble a dashboard that tracks sick and vacation days in real time. A project manager or team leader can create an app to collaborate on projects and tasks through Kintone messaging.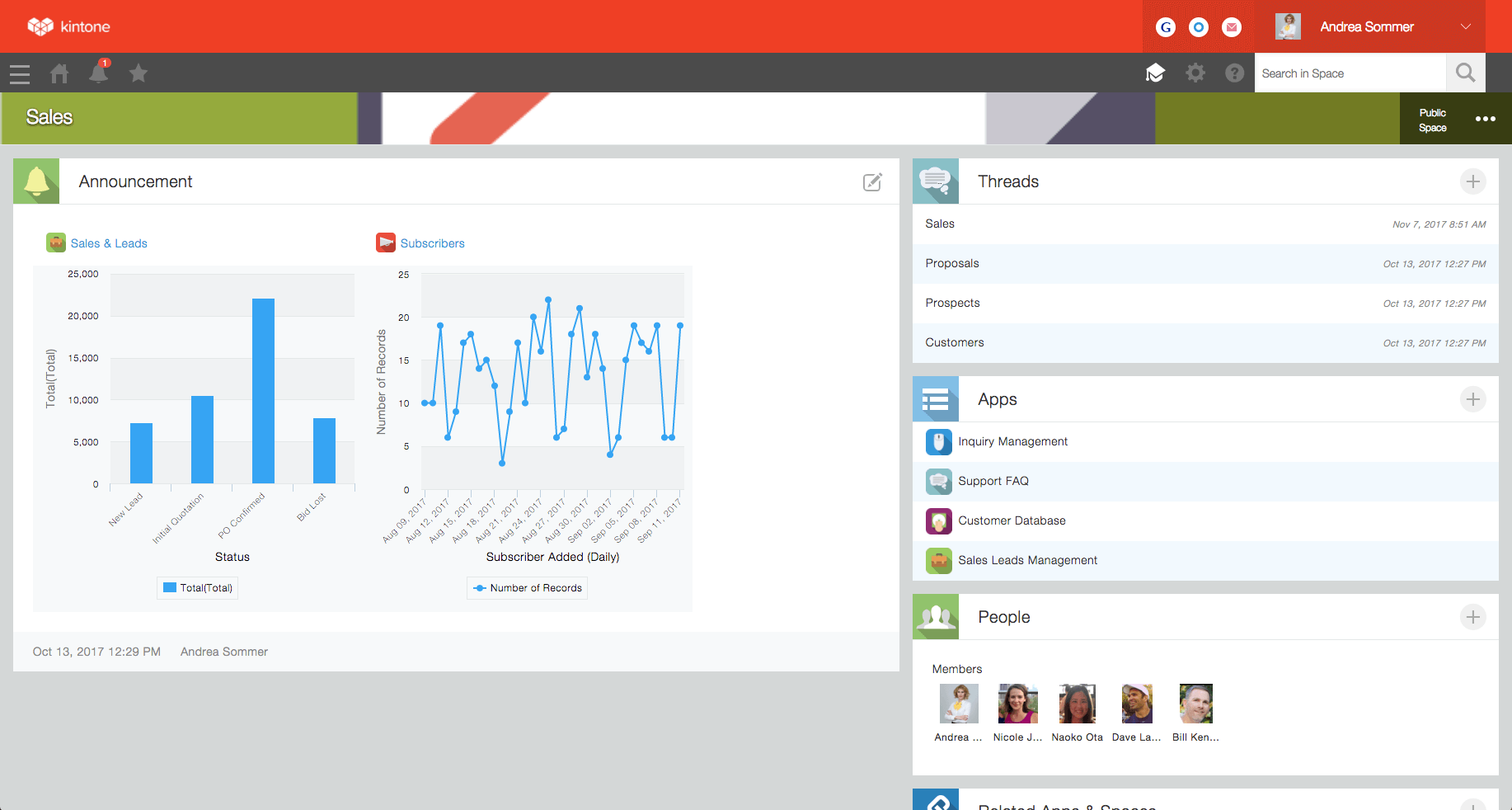 However, part of the power of Kintone is the ability to leverage "low-code" development to add advanced functionality like exporting proposals to PDF, attaching them to the sales order, emailing to the client for digital signature, and processing the signed proposal. All of this is possible with Kintone's application programming interface (API) and can be done within a fraction of the time and effort than a built-from-scratch custom solution.
A company may have the internal resources to build apps using the drag and drop interface, but not the expertise to code with the API. Many AscendWare.Net customers prefer to leave all of the building, coding, and support to AscendWare.Net, but like the idea of being able to add applications, if needed.
Choose your customers carefully. Don't build partnerships with clients who aren't aligned with your goals.
AscendWare.Net leverages Kintone's platform to provide targeted solutions to our customers. The low-code element speeds the development cycle, but it is not the only reason we went with Kintone over other vendors. The other crucial element is compliance, since security and privacy are vital when it comes to providing SaaS solutions.
Planning for the Future by Partnering with Kintone
Throughout our company's brief history, we've always been very selective with whom we do business. We've rejected potential clients who don't play to our strengths, and who are seeking solutions we don't want to provide. At AscendWare.Net, we wanted to be strategic partners with our clients, not just a "vendor."
We have that same relationship with Kintone. This frees us up to build on our strengths and to focus on clients. Instead of spending all our time coding, and managing relationships with multiple vendor partners, we are building solutions that are faster and smarter.
Thanks to Kintone, we can help our customers build agile organizations, efficiently manage processes, streamline workflows, and better serve internal and external clients. That's the better way.