SoftBank Corp. is a subsidiary of SoftBank Group Corp., a multinational company headquartered in Japan, that owns stakes in companies such as Sprint, Alibaba, and Yahoo! Japan.
SoftBank offers various services including mobile communication, fixed-line communication, and internet connectivity. With the goal of innovating people's lifestyles through IT, the company is now expanding its business to the areas of IoT, robotics, and energy.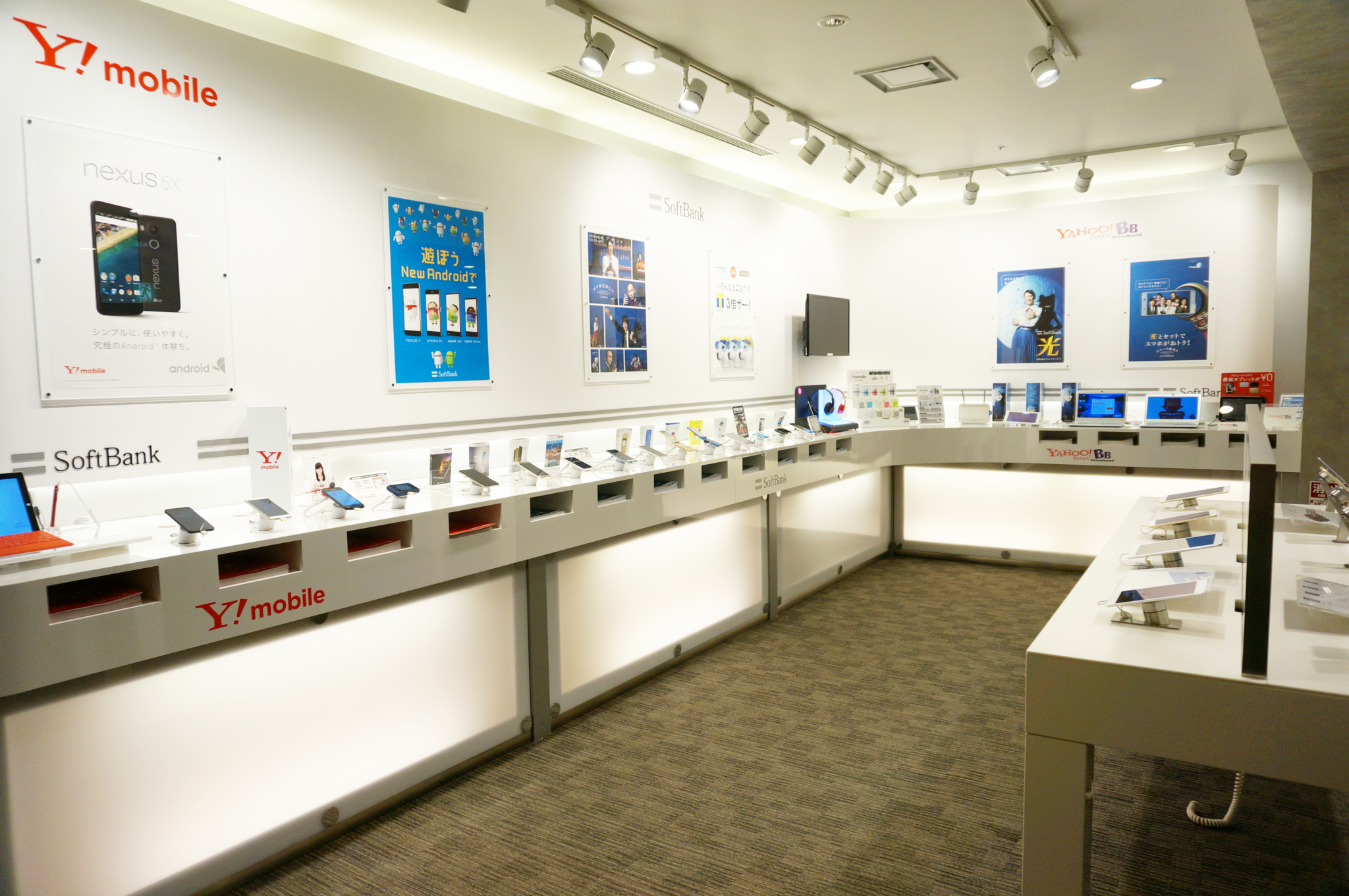 As part of staying on top of their expanding product line, SoftBank's Development Operations Department began using Kintone to handle their internal business processes. Specifically, the department uses Kintone as a platform for business communication between business associates.
Yukinobu, Akira, and Kosuke from the Development Operations Department has shared their story and ambitions.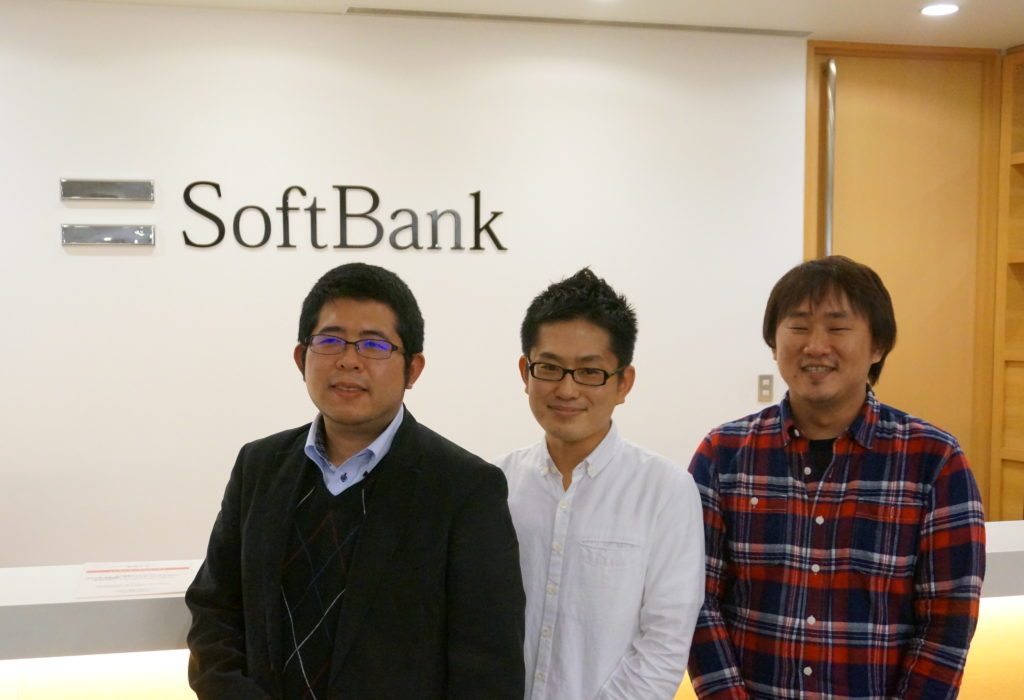 Speed is crucial to respond to a dynamic environment.
The Solution That Allows Us To Be Up to Business Speed
The Development Operations Department is responsible in providing tools to SoftBank Corp. and group companies to collaborate efficiently to develop mobile devices. There are many changes happening around SoftBank's business: changes in the market with up and coming MVNO's, changes in the development environment with an increasing number of development projects with global partners, and changes within SoftBank with new businesses such as IoT, AI, smart robots and other devices.
Our department is expected to work on these changes with speed, and in light of all of this, we made the decision to switch to Kintone from our existing tool.
The ability to quickly respond to change was a priority in deciding for our right tool. With Kintone, a new request can be deployed in a few weeks.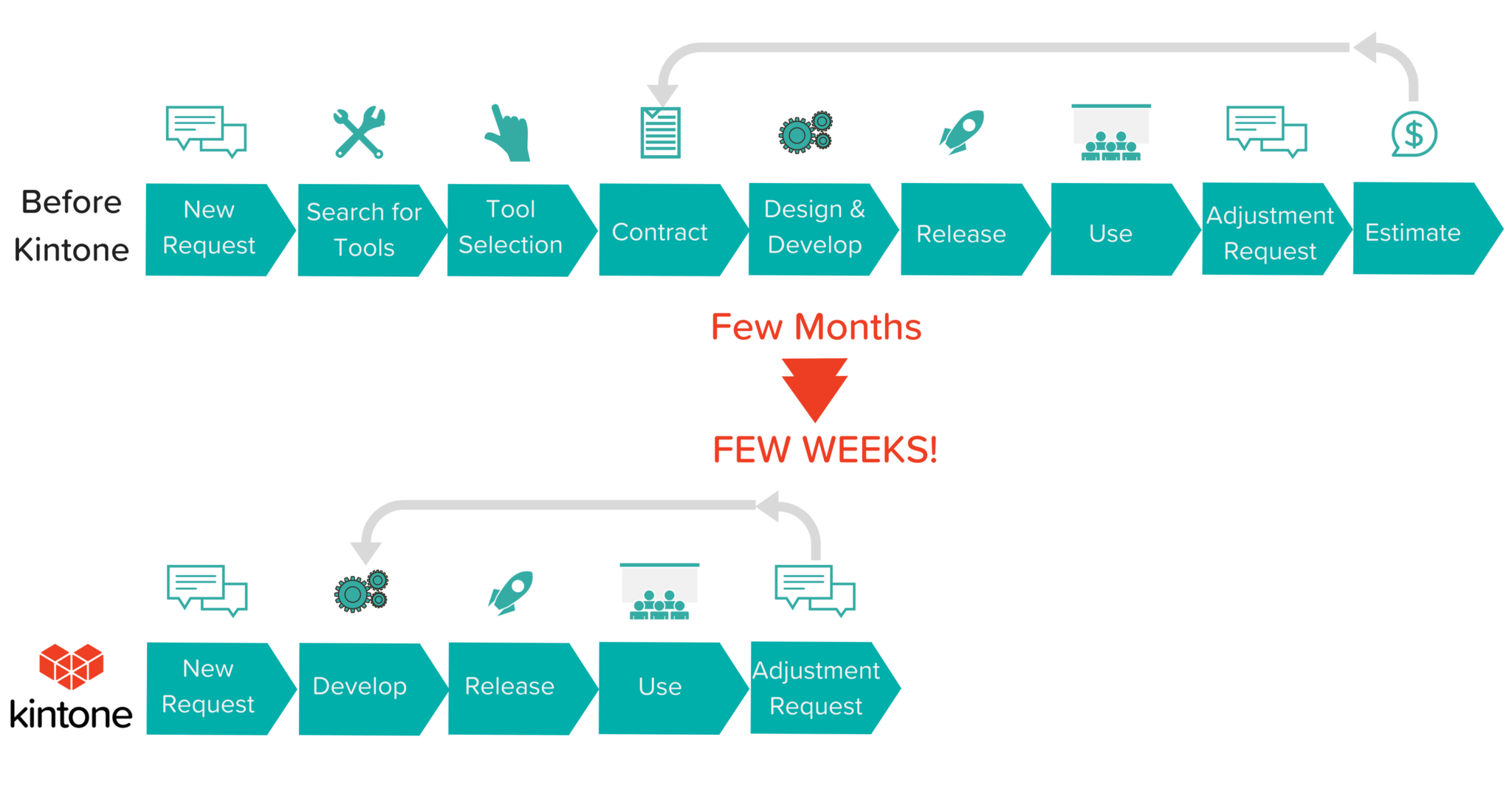 Create a Prototype On the Day of the Request to Understand the Business Requirements
There were times that we changed the process first, but not the tools yet, and we told ourselves, "Let's just handle this manually until the tools are ready." But we realized that this involves a lot of work, so much so that sometimes we had to give up making tools for the relevant task because it took too long. If it was a large tool, we could take a few months easily to define requirements. But with Kintone, we can make a sample in one day. I like the fact that we can make a sample first and have others see it.
Our typical workflow in the past was to ask our users what functions they want, and then narrow down the tools to implement before starting development and installation. There were times in the past where the finished product was found to be different to what users wanted when they actually tried it. With Kintone, we can provide users with an image of the completed product to check if it suits their needs before we start developing the final product. This allows us to get user feedback without spending too much time developing a project that might not meet the idea they had in their head.
Migrate to a New Solution Involving 50+ Partner Vendors with Little Effort
Being able to migrate from the existing tool to Kintone in a short period of time was a big plus. First, we transferred work that had been done with our existing tool to Kintone, and this process only took three months. By conducting development so that similar work could be done on Kintone, we only needed to give brief instructions on how to use the tool, allowing for user training with our clients to go very smoothly without any issues.
In addition, the security features (IP restriction, client authentication), backup system and higher rates of continuous operation offered by Kintone were also appreciated when considering migration.
Kintone allows us to become more proactive, which brings creativity and energy to the workplace.
We like the fact that anyone can develop with Kintone. It might sound a little too extreme, but even someone without any programming knowledge can create a simple app with just a few clicks. The bar for developing with Kintone is a lot lower than with other tools. We no longer have to ask for estimates or place orders with external companies for tool changes as we can develop one quickly in-house.
Our focus has been more on how quickly we can replace our existing tool with Kintone without any problems. There are still many small jobs that are handled with Excel or emails, but that means that there is so much more room for Kintone. There are many brand new development projects proposed, and our challenges are changing along with them. We want to see how fast we can offer valuable tools.
Our members want to respond to requests at work, and Kintone lets them be proactive in thinking of and making tools on their own, which brings creativity and energy to the workplace. We look forward to seeing more great work with Kintone.