Nishijima Accounting & Tax, LLC is a public accounting firm offering a wide range of accounting services for individuals and small and medium-sized businesses throughout the Midwest for over 30 years.
In order to securely and efficiently manage client information, Nishijima Accounting & Tax, LLC shifted from using Excel and file server to Kintone. In an interview with Kintone, CEO Setsuko Nishijima shared her story.
Risk of Individually Managed Operations
"Prior to using Kintone, important data for services like tax return was managed on an Excel document solely by the staff member responsible of the account. Although the Excel document was uploaded on a file server shared internally, file servers did not provide any structure for review, which caused trouble when we needed to find information. The individually-managed operations also came with security risks such as employees forgetting to set up the password on documents with confidential information and/or saving files on their local drive. Reminding and checking whether my employees were following the security policy was also a major issue," Nishijima said.
The System Which Fulfills All Our Requirements at a Reasonable Cost
"While I was looking for a solution to centralize managing data securely, I was introduced to Kintone by my system vendor. At the time, I thought to have a system similar to what the major accounting firms have—where clients fill out the questionnaire for the tax form online—was impossible for us because of their high cost. However, Kintone provided the same service at a much lower cost, with the benefit of enhancing security.
Now our confidential information will not need to be downloaded on the local drive to process work. The flexibility to modify the layout on our own without any technical skills or knowledge was also a plus factor in making our decision," Nishijima shared.
Improved Client Experience
"For our initial implementation, we worked with Kintone's system engineers to design the platform. My employees were involved from the beginning to build the app which best suits our operations," Nishijima said. Now, Nishijima Accounting & Tax, LLC clients each own a Kintone guest user account and fill in their questionnaire directly into Kintone. Using the granular permission controls, the client is not able to access any data in Kintone except their own, and certain fields are not visible or editable by the client.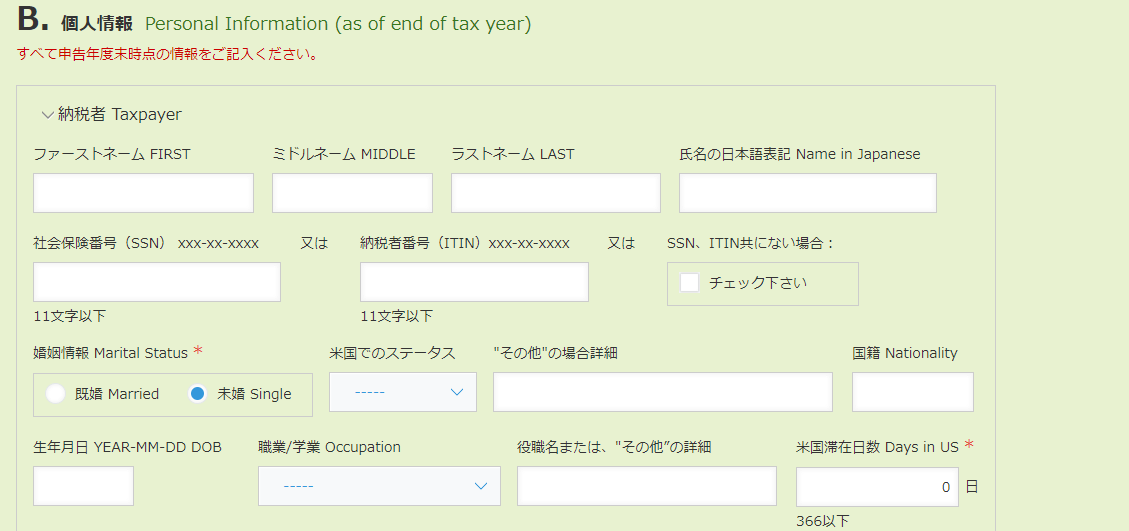 Questionnaire Form
Benefits of Using Kintone
Dramatically improved ability to find and access data thanks to centralized database applications
Fewer data entry mistakes after designing intuitive forms for clients and staff
Less time spent trying to assess a client's status thanks to instantly accessible data in Kintone (no need to check with the client account managers to get a status update)
Improved understanding of client data and the overall business thanks to built-in data analytics capabilities
Improved client experience thanks to Kintone's secure client portals
"Kintone helps each of us save approximately 30 minutes per day"
"Kintone has helped us become productive. During busy season, Kintone helps each of us save approximately 30 minutes per day, which means 2.5 hours of time saved if there's 5 of us. Also, our clients can save time with user-friendly Kintone questionnaires," Nishijima added.
Kintone's Usage Expansion
Nishijima Accounting & Tax, LLC also uses Kintone to manage schedule and tasks. Nishijima shared how she sees Kintone can be expanded to other workflows. "In order to further improve the client experience, I plan to expand Kintone's usage with 'convenience' and 'safety' as the core principles. I think we can use Kintone even more for communication and data sharing. It's been a great experience using Kintone so far. I am happy we've found the solution perfect for us."
Nishijima Accounting & Tax, LLC thought it would be impossible to find an industry-specific system that would fit their budget. But with Kintone they were not only able to create a platform that fit their budget and initial platform needs, they were also able to build a system even more powerful than any of the pre-packed "big firm" software they had initially viewed.