Hoshino Resorts has over 100 years of history, and 30 plus years of experience in managing a variety of hotels, resorts, and travel destinations across Japan and Asia. The company opened its first ryokan, or Japanese inn, in Karuizawa, Nagano Prefecture in 1914 and now manages nearly 40 facilities.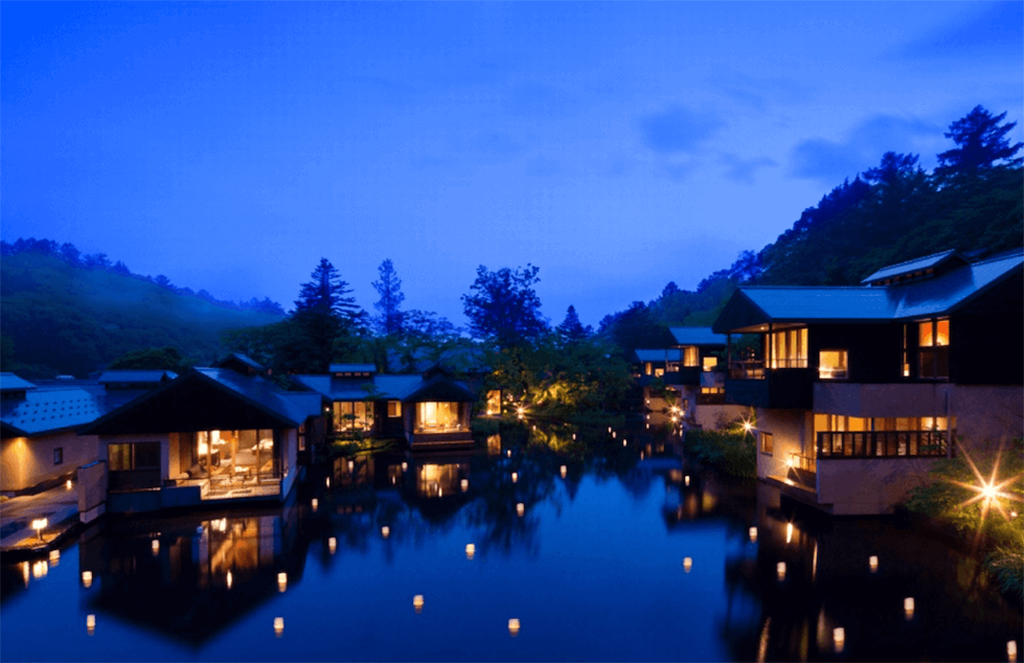 Ayako Maeda from the Information Systems department of Hoshino Resorts and Eiji Hisamoto, the department's director, are tasked with ensuring the company's information systems support its rapid growth. Ayako shares their customer journey below.
Hoshino Resorts' challenges:
Rapid application development within budget
Integrating multiple processes into one core system
A Looming Deadline
I joined Hoshino Resorts in 2013, starting as a resort service staff member. In 2016, I transferred to the Information Systems department, where I worked on the credit card payment project and learned more about payment systems.
Around that time, Eiji Hisamoto, the department's director, shared with me that the decision had been made to release a new payment system for the overseas market within just three months. This new schedule came about due to internal miscommunication. In earlier meetings, Group Information Systems Department had mentioned that it could take three months to implement a new payment system, but that estimate only took the working hours required for development into account. We didn't mean that it would be completed in the next three months. However, the marketing team had interpreted it as the release schedule, and so our deadline was set.
The schedule seemed unfeasible considering the scope of the rollout, but the payment system had been identified as a crucial part of the business because it directly impacts overseas sales. The CEO of the company stressed that point, and completion of the system by the deadline became our company's most important challenge.
Because of my experience with payment systems, Eiji asked me to help with this project. Honestly, I did feel overwhelmed at first by the tight timeline, but I decided to take on the challenge with the complete support of Eiji and the team.
Too Many Cloud Solutions, Too Little Time
My first thought was that we needed outside help, so I contacted a system developer for an estimate. I thought that minimizing custom development would help with the limited time we had, and that we could build a system by combining various cloud services, including Kintone.
However, the outside developer told us the process would take about 12 months of work, which would exceed our budget as well as our timeline. Linking existing cloud services together surprisingly had a much higher cost than I expected. We had to switch gears. Eiji suggested that we could build the new system with Kintone, which was one of the cloud services we had implemented. Instead of linking multiple cloud services together, we would expand the area of the system that Kintone covers in order to meet the deadline and deliver the best ROI possible.
"Kintone First": The New Motto
"Kintone first," became our new slogan as we set to work. At first, we had planned to use a different system to manage reservation and deposit information, but we decided to integrate all of them into Kintone. This way, all of our data and processes were centralized in one place, which cut down both costs and time spent on development.
Using Kintone, I created database and processing apps that were used as starting points, and then had an outside development company check for any holes. The ability to create basic apps on my own without any programming knowledge was the key to building out our new system in such a short period of time. This process was especially fast for me because I was already well acquainted with our business' operations.
Thanks to Kintone, we were able to build out the new bank payment settlement system on time and within our budget. We built out the new system in just two and a half months, which gave us enough time for a final test run.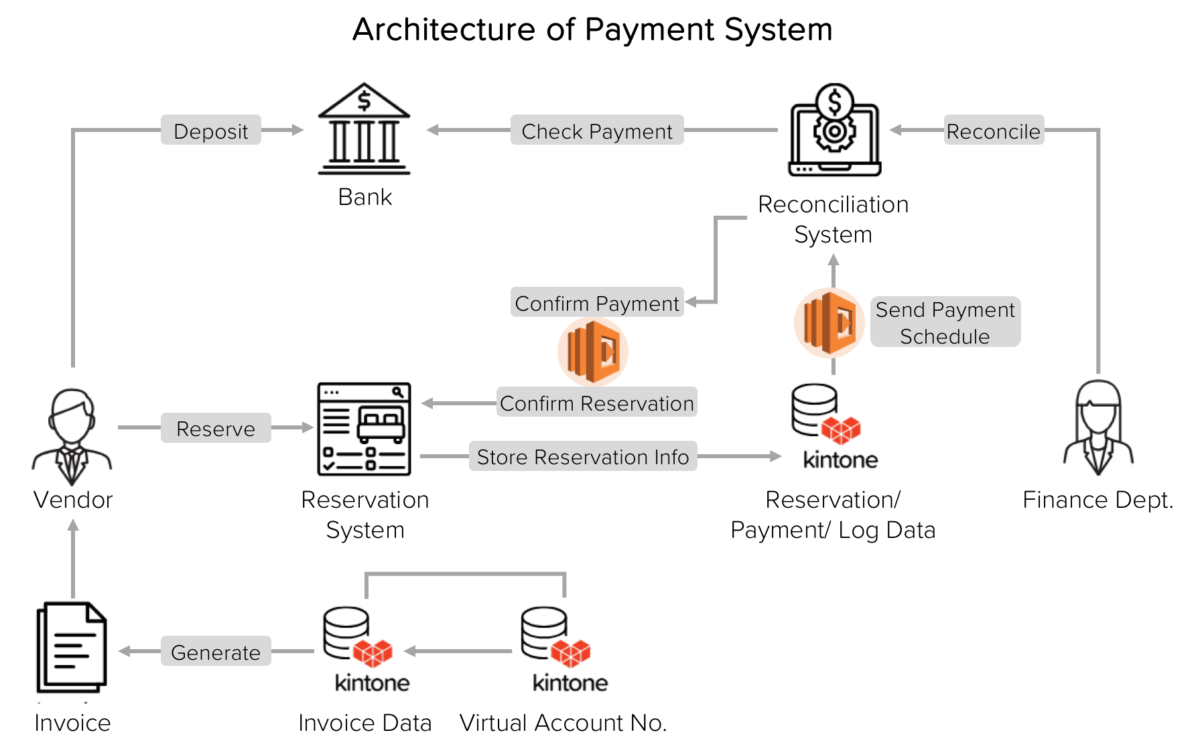 The success of this project has already made a huge impact. The completed bank deposit settlement system was first used for reservations at select hotels and then gradually implemented at other locations. Kintone is now being utilized as the foundation of the system for the settlement of bank transfers, which has drastically boosted our overseas sales.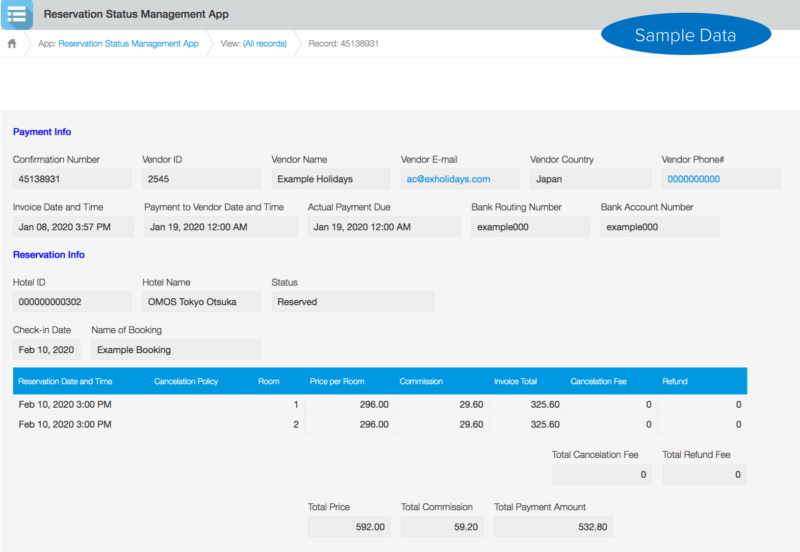 Results with Kintone: A Brand New Payment System and a Happy CEO
As the system is now running smoothly, we've been able to accept more reservations, and have seen an enormous increase in the number of hotel reservations from overseas agencies.
The project had been under a lot of scrutiny from leadership and even our CEO because of the tight timeline, so it's been a great joy to see the positive results.
When the first reservation came in, our overseas market division and I were so happy! We reported it to the CEO, and he was happy for us, too. Since then, he asks me about any other projects I am working on whenever we see each other in the office.
The company's new system is still only operating at 30% of the ideal payment system capacity. We plan to set up automatic deposit clearing with Kintone and the deposit detail API, which has been made public by several Japanese banks.
We're also finding new ways to use Kintone to improve business operations company-wide, and we now have a library of more than 700 Kintone apps being utilized on a daily basis.
Through our experience with this project, we've learned about the possibilities with Kintone and how it can serve as the foundation of our entire core system if we properly combine it with different services. With new and various system requests every day, now the first thing we ask ourselves is, "What else can Kintone do for us?"