Calabash is a consultancy firm that specializes in business process optimization solutions using low-code application platforms. Founded by operation management experts John Bratincevic and Matt Hubbard, the firm works with a variety of clients, from Fortune 5 companies to SMEs with 10-20 employees.
In 2018, Calabash teamed up with Kintone to expand its portfolio of services. Now, Calabash offers its clients the ability to empower their own teams by making them citizen developers. Citizen developers are users who can create and maintain their own business applications for personal or company workflow purposes.
Kintone: John, Matt, it's a pleasure to talk with you. Tell me a little about yourselves and how Calabash came to be.
John: Matt and I have backgrounds in continuous improvement and process management. Matt was a quality engineer at Honda for 14 years, and I was a Lean solutions engineer at a logistics company.
We first met around seven years ago when we were both assigned to the same continuous improvement team. I was presenting on Lean project management, and after the presentation, Matt pulled me into a conference room and said "John, I think you're different." I replied "Don't touch me…"
That's a joke. But it was a little unnerving at first—Matt honed right in on me immediately.
But then we started talking and found we had a lot in common: we both had a passion for delivering excellence and helping people, goals we realized weren't the easiest to achieve in large corporate environments.
Kintone: How did Calabash come to embrace low code as part of its process?
John: Matt was looking for ways to error-proof business processes but found that traditional systems development took too long, were really expensive, and generally inflexible. That doesn't work for continuous improvement, you need to be able to change. A couple years before we met, he discovered low code and started using it for procurement processes. Then he introduced it to me and I began to use it in logistics. Then we started using low code for everything, and over time, we found this was something we could consult on. So we started moonlighting and did that for several years while trying to figure out our business.
Three years ago, we quit our day jobs and went full time with our work. And we've been Calabash ever since.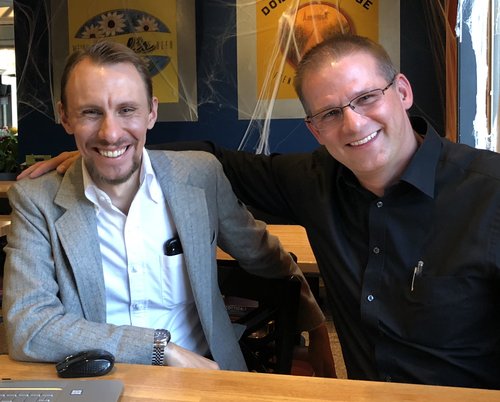 Kintone: Tell me about your goals. When it comes to your customers, what matters most?
John: We're advocates of excellence. It's our goal to figure out the genuine need of the customer, develop a concrete plan to meet that need, and then make sure that plan works so well it delivers the same desired results every time. I know it sounds too good to be true, but it isn't. We aim to produce as close to perfect quality as we can given the circumstances and where we are in the customer's journey. That's doing excellent work and that's what we prioritize at Calabash.
Kintone: How does continuous improvement come into play with what you do?
John: Continuous improvement includes the belief that quality is number one and having defects—and treating them like they're a regular part of your process—is terrible. It's amazing, but most of the world operates on the idea that process failures are normal. People are accustomed to muscling through much of their jobs to get what they need. But it doesn't have to be this way. It absolutely doesn't have to be.
Kintone: How do you convey this mentality to your customers?
Matt: So when we approach our customers, the first thing we will do is try to determine what problem we are trying to solve. We're not here just to sell you software. What problem is the software going to solve?
John: This is our craft, and we love it, and we're honored to help people with it because we think it's going to make a difference.
Matt: People often start with a problem statement or tell us where their business is hurting. But what they point to isn't always the root problem, often it's a symptom of something larger. The fact of the matter is, though, if you don't address the underlying problems and have a plan for those, no amount of band-aids on the symptoms will last. That's where these "muscle through" moments occur. The core problem hasn't been addressed and so the solution isn't really a true solution, and it breaks.
Our specialty is helping people develop a problem-solving process for their business, and then to use Kintone as the platform on which to execute that plan.
Kintone: Why did you choose Kintone as your platform to execute on?
John: Our decision to work with Kintone started with the Kintone team. I attended your Kintone Connect conference last year and basically came back and told Matt, "Yep, they're all good guys." And Matt said, "Okay, how do we go to the next step with them?"
So that's how we started using Kintone, because we saw you guys over the years, I went to the conference because I had a very good feeling about Kintone's team culture. After that, we reached out and confirmed that you were the kind of people we wanted to work with.
From there, we looked at how the platform fit our needs. One of our biggest goals in choosing a platform was finding one that promoted citizen developers. Kintone does that really well. One of Kintone's greatest strengths is that it's so easy to pick up and learn. That makes it a powerful resource for a business team. In business, we almost always try to develop a solution that includes a citizen developer angle because we are about helping empower teams to solve their own problems.
"One of Kintone's greatest strengths is that it's so easy to pick up and learn. That makes it a powerful resource for a business team."
Kintone: Why are citizen developers so critical to developing an effective business process?
John: Being able to leverage your team to make their own business applications is a really powerful strategy.
One of the principles in Lean is that employees should improve their own work and their own processes to solve their own problems. That's what citizen development is about: making apps yourself, improving your own work, your own department, your process, or whatever is important to you. It's about giving people the power to really improve the hundreds of processes that are the guts of a company—and to do it digitally, with apps.
In the tech world we constantly hear the phrase "Digital Transformation," which is the idea of companies using tech to solve problems. But often when people talk about Digital Transformation they forget to focus on the individuals, even though that's where real transformation actually happens. In the Lean world we talk a lot about "Lean Transformation" instead, which focuses more on the people aspect of transforming. We pay attention to involving every person in the company and creating a "problem solving culture" rather than focusing exclusively on technology.
My vision for companies is that someday every employee, when they start, gets their computer with Microsoft Office Suite on it and whatever other software tools they need, as well as a developer license to develop low-code applications that they are trained on how to use. And that's just part of how everyone does business.
I like to tell executives my story about becoming a citizen developer and the problems I started solving with low code from the very beginning and how powerful it was, and how the lightbulb went off in my head, thinking, Wow, nothing is withheld from me! Then I said to myself Imagine if you had dozens of people like me running around? From there I began to wonder what it would be like if everyone in a company could do this. I mean, that's genuine transformation!
Kintone: You've partnered with us to really achieve incredible things for customers and we love that about you guys. Is there anything else you'd like to say?
Matt: We genuinely believe that every company can benefit from making low-code a part of their business process, and we take a lot of pride in helping companies achieve that through Kintone and Calabash.
Sometimes people assume we can only work with a particular industry, but we're actually quite diverse. The thing is, while industries look vastly different on the outside, the business processes—both the good and bad—are incredibly similar between them. That's what gives us the ability to work with anyone.
To learn more about how Calabash can help your company develop a successful, long-lasting business process, contact them at www.gocalabash.com.