Hisaka Works was founded in Osaka, Japan in 1942 and is not your typical industrial machinery maker. The Process Engineering Division, one of the three main segments that make up Hisaka's core business, revolves around the development of machinery for three industries that are essential for our daily lives: textile, food, and pharmaceutical industries. In textile, the division specializes in manufacturing dyeing machines, a market Hisaka Works currently dominates. In the food industry, Hisaka Works was the first company that introduced food sterilization machinery to the market, machinery that is now employed by numerous big-name food manufacturers in the production of pre-packaged food, a highly popular commodity among Japanese consumers.
Consolidating customer information management of two business segments into one
Hisaka merged two of its main business segments – textile dyeing, and food and pharmacy and created the Process Engineering Division. Attempting to achieve such business consolidation, Hisaka was facing challenges including optimizing and rationalizing back-office processes, but one of the most pressing issues was system integration.
All data on past technical incidents, routine inspections and new business inquiries – the lifeblood of the sales department – were managed using Excel and Microsoft Access. Excel was great for making simple business forms, but only one person could access and edit a spreadsheet at the same time and the search function was not very user-friendly. This made it difficult for members to look up data on similar technical issues whenever they had to follow up urgent phone calls from customers. Based on these matters, they decided to carry out a full integration of all internal IT systems which all departments, from manufacturing to sales, were coordinated.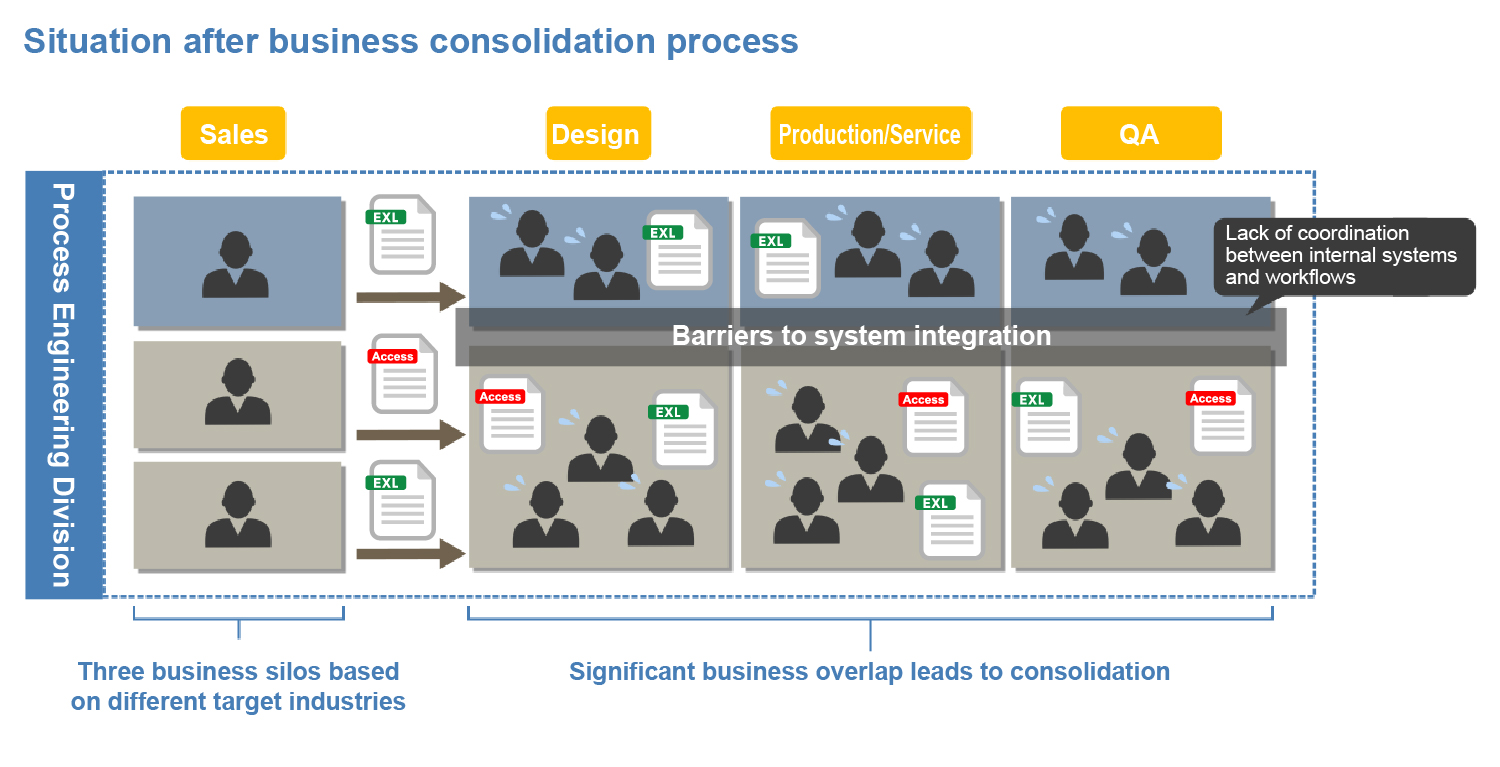 Affordable & Easy-to-use
Initially, they considered purchasing an off-the-shelf CRM software solution. However, their hopes were dashed by high costs, complicated operational procedures and heavy maintenance, leading them to ultimately abandon this solution. The Hisaka team knew they couldn't keep using Excel and Access so that's when one of Hisaka's members from the Information System Section discovered Kintone.  Hisaka's Shanghai Office had already been using Kintone for several years and what's more, it was highly regarded for being extremely cost-effective as well as user friendly. Seeing the positive results in the China office convinced the Hisaka Japan team bring Kintone over to the Process Engineering Division.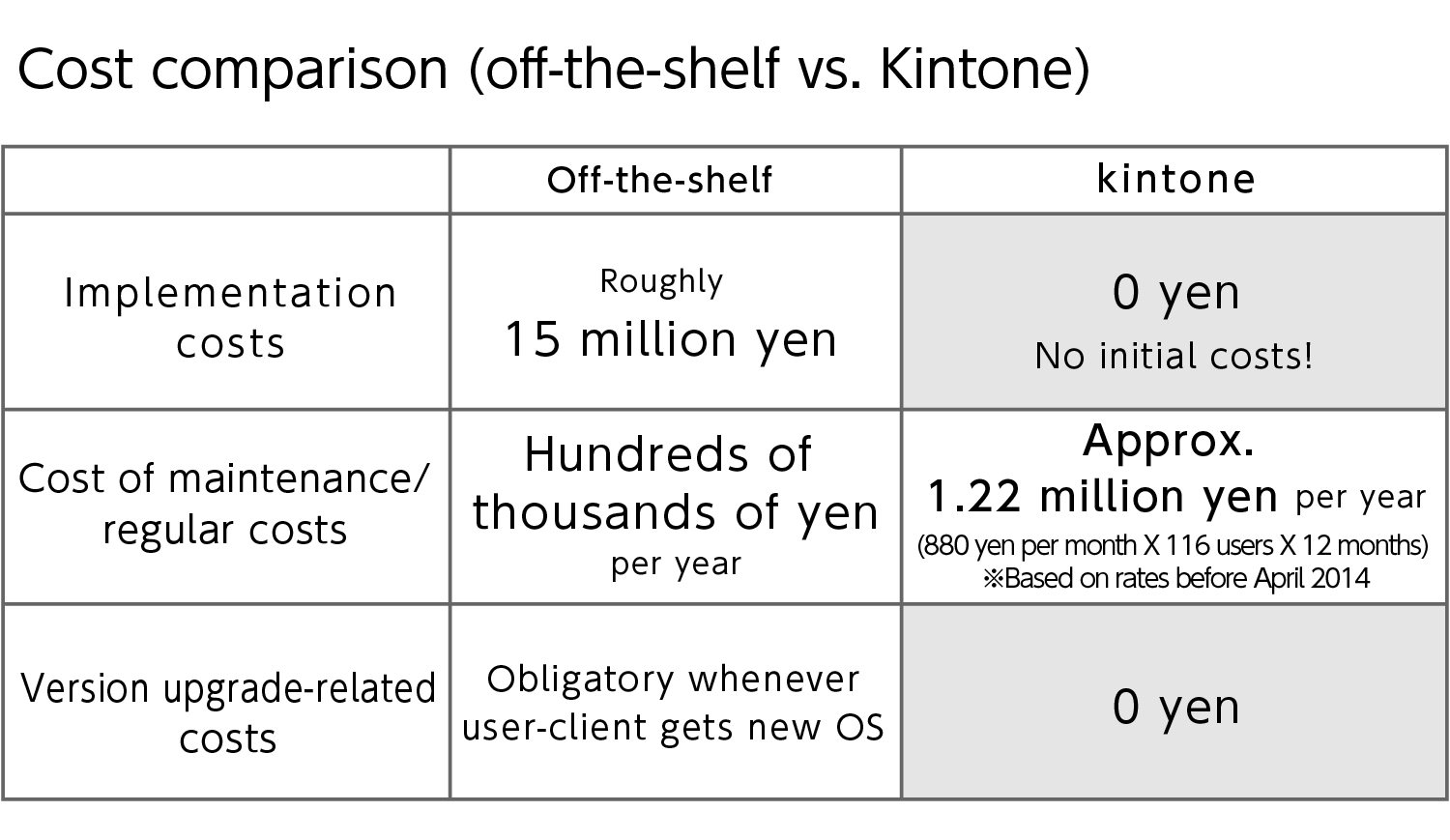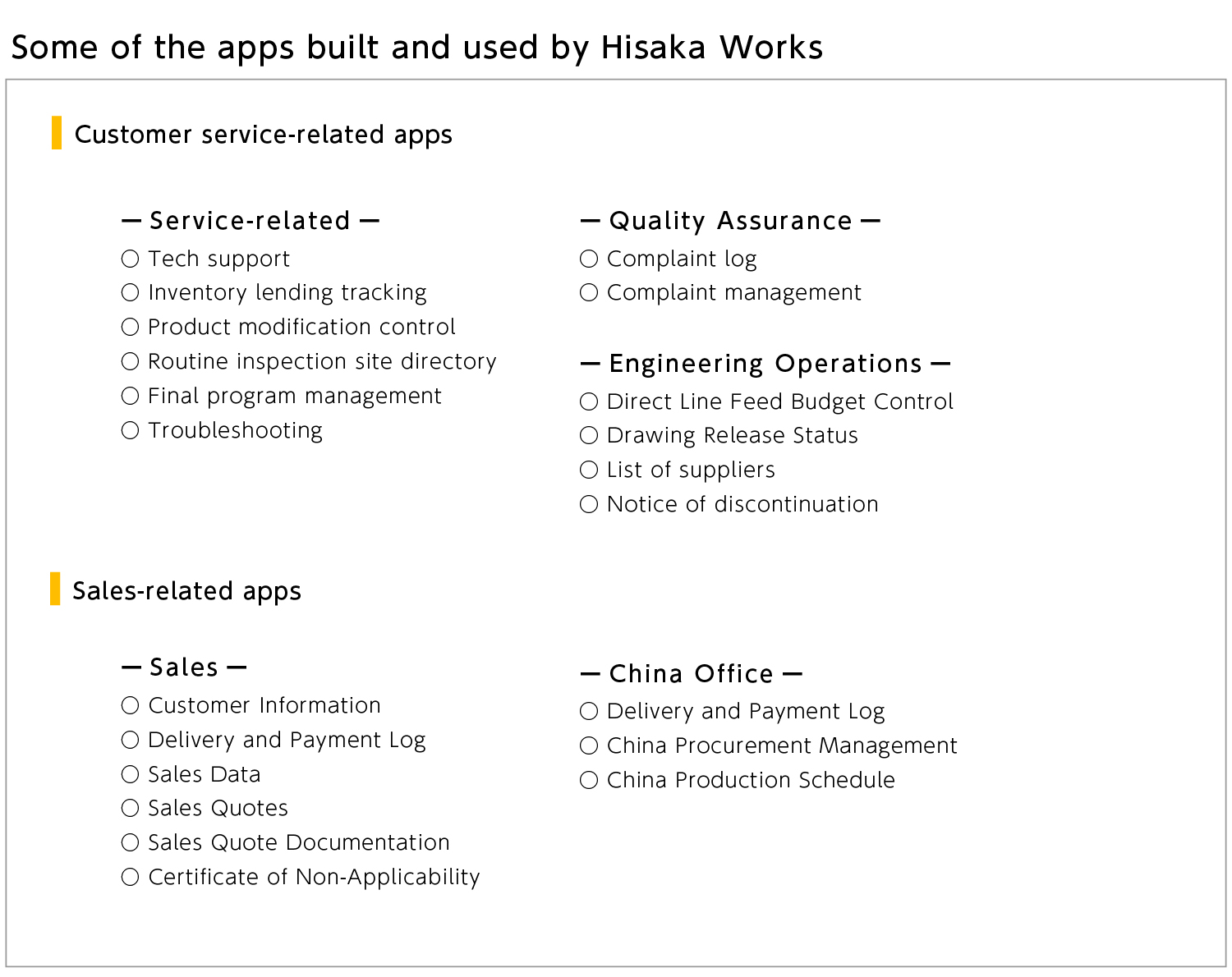 Staff-built, information and process management applications on one, centralized platform
Once Kintone was implemented, it was immediately put to use in the sales and customer support departments, with apps taking over the management of quotation requests, incident logs, troubleshooting history and customer databases. In this initial adoption phase, the Information System Section handled building the Kintone applications, but after seeing just how easy it was to build applications with Kintone's drag-and-drop user interface, they transferred the app-building to the department's end users, leading to a much more agile process. Since then Kintone has continued to expand its scope to other departments, including the manufacturing units.
Kintone Benefits
1) Better teamwork
The coming of Kintone to Hisaka Works brought order to the data clutter and paved the way for smooth collaboration both within and between various departments, which improved the members teamwork. Additionally, their use of Kintone as a centralized communication platform has also inspired members to look beyond their individual departments where they could more easily form connections and share information with other units to look for ways to optimize efficiency and effectiveness across teams.
2) Project Visualization & Transparency
Using Kintone also increased team transparency by visualizing what everyone has been working on. Before Kintone, it was impossible to access the data and know what the status was if the member wasn't directly involved in a project. Now with Kintone, everyone has been able to easily keep track of the status of a project, without any barriers.
3) Flexible to Any Workstyle
Kintone's cloud-based platform allowed for Hisaka's staff to access data regardless of time and location. This flexibility has been especially convenient for those who often travel for work and even working parents who have prefer to leave work early and finish up tasks later at home. They could check notifications and send out quick replies on mobile devices, granting them more freedom to decide how and when they want to work.
4) Enable Global Expansion
After experiencing success with Kintone in Japan, it became expected that Kintone would also play an indispensable role in supporting the operations of Hisaka's other overseas offices as they continued to pave their way towards becoming a more global organization. So far, they've already rolled out Kintone in their China, Saudi Arabia, and South Korea offices with the ultimate goal of integrating all Hisaka offices into one cohesive, digital workplace.