"It's like working to shoulder with all the staff." What is the secret to driving sales that the Managing Director of Friend OA Center mentioned?
FRIEND OA CENTER CO., LTD. sells and leases copiers, printers and projectors for companies and
entrepreneurs in Thailand. Currently, they are a distributor and lessor of products from leading global
printer manufacturers with a wide range of brands. On this occasion, we were honored to have Mr.
Somkid Rattanaburi, Founder and Director of the Company, Mr. Natthaphong, IT Support officer, and Ms.
Sam-ang, Sales Supervisor, to talk about usage and changes after using Kintone software.
The beginnings of the Friend OA Center Co., Ltd.
Established in 2005 by Mr. Somkid Rattanaburi, who has knowledge and experience in both sales and
technicians. After 1 year in business, he began to accumulate more customers and received good feedback
from customers. Currently, Friend OA Center is the official distributor of leading global product brands
such as Fujifilm, Kyocera, HP, EPSON and SHARP, etc., and have also received guaranteed awards by
many brands such as Premium Partner, Power Service, which are the highest awards of the brand.
Recognizing the importance of IT systems in the organization.
Friend OA Center Co., Ltd. currently employs 50 staffs, divided into 8 salespeople, 20 technicians, and 4
IT staffs. Mr. Somkid mentioned the importance of IT systems: "In modern times, IT systems are
considered a good and indispensable aid to work, can help communicate both inside and outside the
organization, as well as promote smooth and efficient collaboration between departments. As an
executive, I need to choose software that can meet the needs of the organization's work exactly and
alleviate the functional problems we are facing."
What are you doing? Where are you? Problems that Friend OA Center encountered before using Kintone
Mr. Somkid talked about how he got started with Kintone, "As an executive, the first problem we
encountered was the sales team, and a lot of times I came up with the question of whether the sales team
actually went to work, where they worked, there are no reports sent to the company. There are also no
devices or aids to track the status of work. So, I brought these concerns to the suppliers and became
acquainted with Kintone software. Before using it, I was initially concerned about whether it would work
well or not. However, because the majority of our work is done by hand, so using Kintone is a good start."
Mr. Natthaphong, IT Support Officer, has mentioned the conditions for choosing to use the software for
the organization. "Because the executives are interested in using Kintone, I, as an IT officer, have studied
the needs of each department, what kind of system they need? which forms of work are lacking or
inadequate? along with studying the work of Kintone at the same time. Results have shown that Kintone
can actually work with our company's systems. This is especially true in sales departments where data is
stored through Excel, which sometimes infects the computer with a virus or is inconvenient to use off-site.
Using Kintone enables data security and can be used off-site. Another problem is the customization of
functions to match the use, previously we tried one of the programs, but the problem is that it cannot be
customized according to the actual usage. This requires us to use it according to the functions that are
defined. But Kintone can freely customize functions, and can conveniently choose to use data, whether it
is image data or graphs. This saves a lot of time in data preparation."
Ms. Sam-ang, Sales Supervisor, talked about the problem before starting up with Kintone that "In order to
meet customers, sales representatives must fill out the company's form to see on what subject the
discussion is focused? what products are offered and described? It takes time to prepare those reports.
On many occasions, staffs do not submit the reports. This causes the loss of information when the staff
resigns. In addition, in order to prepare quotations, they must wait for the supervisor to come sign
approval at the office, or must wait for a face-to-face meeting to process the signing of those documents.
This results in 1-2 day(s) delay in making product proposal to customers. These issues affect the
company's overall performance."
'Convenient, Cost-effective, Directly and indirectly increasing work efficiency' is the convenience that comes with the use of 'Kintone'.
Although in the early days of using Kintone we encountered issue that the staffs felt controlled by the
change in working style, the feedbacks were very positive after having tried out the system. Mr. Somkid
said, "At first, the staffs may feel like they're being controlled in their work, but having understood the
working characteristics of Kintone and actually tried it out, the staffs started to open up because this
software made it easier to work and able to work better as a team. It helped me, as an executive, know
how the staffs work, know where the staffs are from the reports submitted into the system, and it also
helped the staffsbecome more active in their work. As a result, the company's sales have increased
because of the sales data visualized in the system, making each salespeople more focused on their work.
And the result of diligence and enthusiasm under this Kintone system is evident in sales figures. Prior to
its use, our salespeople had an average sales of 90k per person, but after using Kintone, sales increased to
200k, and of course, the returns here were also returned to staffs in form of incentives."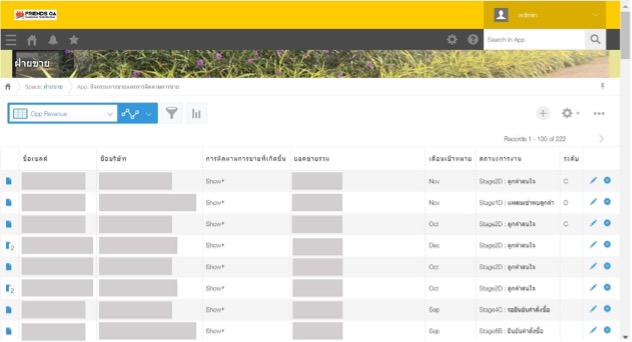 Mr. Somkid added, "Kintone has made the company's systems and workflows more concise, faster and
easier. Staffs can report and submit documents for approval at any time, and I can approve them anytime,
anywhere, through devices, including computers, tablets, and mobile phones, even from overseas,
documents can be approved immediately. As a result, the sales process ends quickly. In addition, Kintone
reduces the paper use in the organization. As a result, the company's consumable costs have also been
reduced."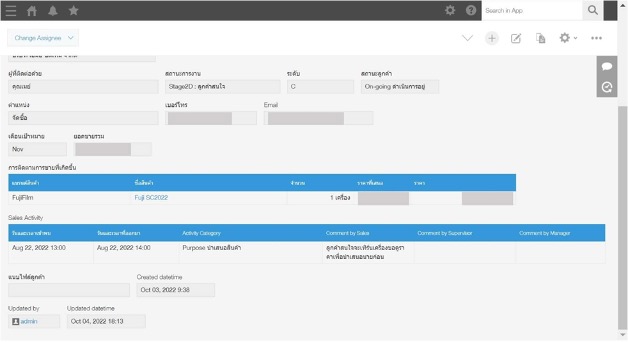 Ms. Sam-ang, Sales Supervisor, spoke about the impression and convenience after using Kintone, "Using
Kintone makes communication with each other more seamless, without the need to make phone calls or
talk directly. This reduces the discomfort of communicating or tracking the progress of a task.
In addition, it is possible to fully capture the sales performance data. As a result, the company has a
database of past sales to analyze the marketing plan. Reduce the company's risk of losing customers, and
make it easier for new salespeople to take over in the event of a resignation."
Plans to expand Kintone's usage to other departments in the future.
After using Kintone with our sales team for about a year, the company has realized the increase in
performance and convenience that comes with its use. The management plans to expand Kintone to other
departments in the future. Mr. Somkid said, "Based on the implementation, we feel that the problem is not
only in the sales team, but also in another department, the stock department. In other words, the programs
that the stock department is using have not been able to help keep the operation running at full capacity,
and stock cuts are also not accurate. Another department we plan to use is the technician department. We
found that reporting wasn't good enough and was often communicated or reported via chat programs. This
causes missing data that cannot be consolidated into the company's data base. Kintone software can be
used to both accurately cut stock and collect maintenance data, allowing the company to collect history of
maintenance data. This leads to the use of those data to analyze problems and develop better services."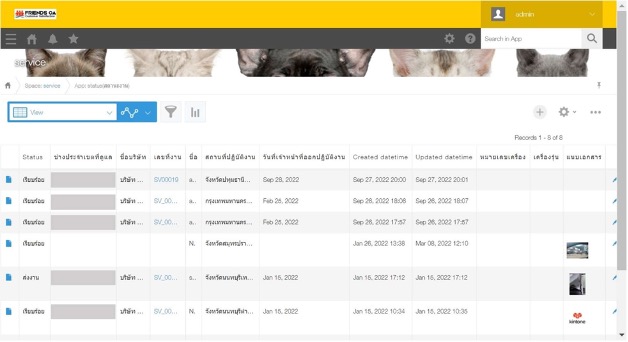 Mr. Natthaphong, IT Support officer, added "Based on a study of how each department works and how
Kintone's system works, it has been found that it can be used in stock department and technician
department. They can control stock cut and share stock information with sales departments to see the
number of inventories. Also in the technician department, technicians used to confirm about the progress
of the machine's repair status by shouting. The introduction of Kintone enables maintenance information
to be updated through the system and provides a complete repair history. IT department plans to
increasingly standardize internal systems by using Kintone."
Finally…
Mr. Somkid concluded, inviting partners and business owners with similar business characteristics: "After
using it for a year, it has become apparent that Kintone software is a system that works well with the
staffs. This makes it convenient for both the staff who have to present or request approval, and the
management who has to approve the documents. I want my partners to try it out. This software will
reduce the problem you are facing. Under this system, we can get real-time information stimulates the
work as if we have been with our staffs all the time, eliminate the problem of staff incompetence. It can be
said that it is a very good and worthwhile investment."